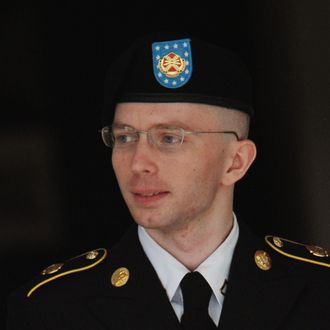 Photo: MANDEL NGAN/2013 AFP
A military judge today ordered Pfc. Bradley Manning, the 25-year-old convicted WikiLeaks source, to serve 35 years in prison for violating the Espionage Act. Manning faced up to 90 years after being found guilty last month, with the U.S. government requesting a sentence of 60 years. 
During sentencing, Manning apologized and asked for leniency. "I am sorry that my actions hurt people. I'm sorry I hurt the United States," he told Judge Denise Lind. "I am sorry for the unintended consequences of my actions. When I made these decisions I believed I was going to help people, not hurt people." 
He will receive a credit of 1,293 days for time served, including the 112 days off he was awarded for detainment "more rigorous than necessary."
"He cares about human life," said Manning's defense lawyer David Coombs. "His biggest crime was he cared about the loss of life he was seeing and was struggling with it."
Manning must serve at least one third of his sentence before he is eligible for parole. He was also dishonorably discharged.