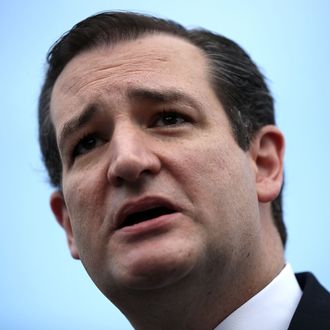 U.S. Sen. Ted Cruz (R-TX) speaks during a news conference May 16, 2013 on Capitol Hill in Washington, DC. U.S. Rep. Michele Bachmann (R-MN) held a news conference with Tea Party leaders and congressional members to discuss the IRS scandal of targeting the Tea Party.
Photo: Alex Wong/Getty Images
It will take "up to eight months" for Ted Cruz's citizenship-renunciation application to be processed by Canadian officials, according to Reuters — a waiting period designed to give Cruz lots of time to think about whether he really wants to disassociate himself from the only country in the world to produce Corey Haim.