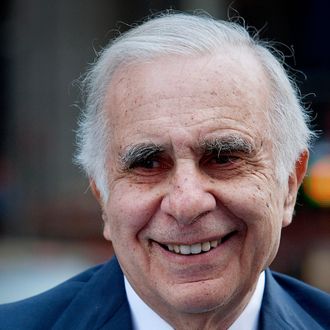 Gets this whole "viral" thing.
Photo: Scott Eells/Bloomberg via Getty Images
Billionaire investor and professional grumpy old man Carl Icahn had a chat on the phone today with Apple CEO Tim Cook. The two men discussed, presumably, the new ramen-burger fad and Kendrick Lamar's diss verse, along with some business about Apple. Icahn came away impressed enough with Cook that he took to Twitter and announced that he had a "large position" in Apple stock. The tweet – which I like to think Icahn fired off while on the john, once he'd run out of Candy Crush lives – sent Apple's stock up 4 percent, boosting its market cap by about $10 billion.
Icahn continued:
Tim Cook: Print these tweets out, put them up on your wall. In three months, when Icahn is yelling at you on CNBC, you'll want to remember the good times.