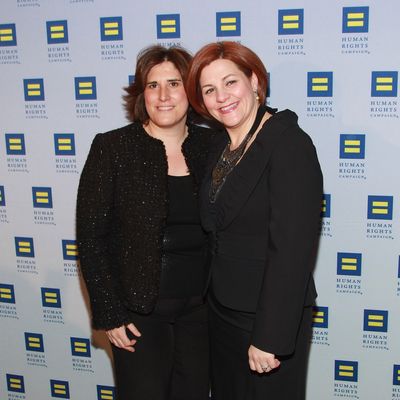 Christine Quinn and her wife, Kim Catullo.
Photo: Taylor Hill/FilmMagic
On Sunday, Bill de Blasio's daughter touted her dad as "not some boring white guy." At the same fund-raiser, Susan Sarandon, one of the candidate's celebrity boosters, said, "Initially I was interested in Quinn. It became clear to me that, you know, as a woman, you can't just vote your vagina." 
I'd just finished typing these words last night — "de Blasio is disciplined, but his campaign supporters have the most potential for saying something dumb or inflammatory" — when today's Maureen Dowd column arrived. The Times scribe quotes de Blasio's wife, Chirlane McCray, criticizing Christine Quinn: "She's not accessible," McCray says. "She's not the kind of person I feel I can go up to and talk to about issues like taking care of children at a young age and paid sick leave."
Ouch. Quinn reacted to the direct personal slight by issuing a statement a few minutes ago. "There are women all across the City who don't have children for any number of reasons, whether they simply can't, choose not to, or circumstances don't afford them the possibility. I have taken a number of shots in this race from the men running against me, and I accept that as par for the course in a political campaign. But to criticize me as not understanding what young families go through because I might not have children, is over the line."
She added, "I have spoken fondly of Ms. McCray and Mr. de Blasio's family. It's unfortunate that they cannot do the same about mine –no matter how different it might be from theirs."
Quinn has had trouble connecting with voters on a human level. She just got some help, and tonight's debate on NY1 just got a whole lot more interesting.
Update: McCray was misquoted and the Times has since corrected the column to reflect her full remarks. But the Quinn campaign isn't backing off, claiming that the "essence" of the remarks remains the same.
"The updated Maureen Dowd column affirms the fact that the de Blasio campaign made it quite clear they believe that Christine Quinn is not the 'kind of person who you can talk to and go up to and have a conversation [with] about those things…' directly referencing 'tak[ing] care of children at a young age,'" said a spokesman for Quinn.