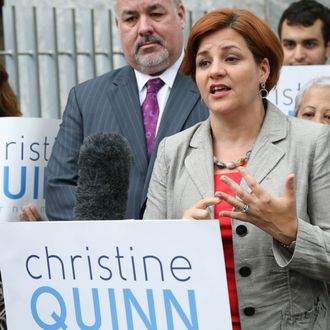 Things are not going well for Quinn.
Photo: Rob Kim/Getty Images
Not only is Bill de Blasio flirting with the 40 percent threshold that would allow him to avoid a runoff with the second-place vote-getter, but if there is a runoff, it's becoming increasingly possible that Christine Quinn won't be a part of it, an outcome that seemed unthinkable for most of the campaign. Two new polls have Quinn falling back into third place behind de Blasio and Bill Thompson; she trails Thompson by one point in a Times poll and by seven points in an amNY/News 12 poll. There's still time for her to overtake Thompson for second in this incredibly fluid race, but right now, her numbers are trending down, not up.