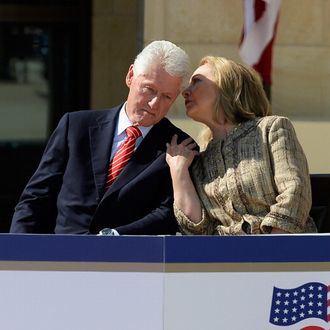 Photo: Kevork Djansezian/Getty Images
Bill and Hillary Clinton have summered in the same East Hampton home belonging to Elie Hirschfeld for the last two years, and aside from the fact that he wanted photos with them in addition to the rent, the deal seems to have been routine enough. Almost too routine, as Hamptons rental properties apparently go. Hirschfeld's not renting the place out to them this year but according to the New York Times, "the Clintons indicated that they were not necessarily interested in returning anyway after enduring last year what so many Hamptons renters have before them — the loss of a large chunk of their security deposit." Good god, did they turn the pool water to Jell-O or improvise a skylight or something? Alas, no.
One Times anonymous sources revealed that "the expenses associated with the home — which has lush landscaping, a large heated pool and eight bedrooms in 12,000 square feet of space — ate up the bulk of the deposit. Security deposits are typically applied to household expenses like heating oil, electricity, housekeeping and lawn maintenance, and Mr. Hirschfeld said the Clintons did not make a fuss about it." They can afford it, after all. According to the Times, their vacation house this summer in Sagaponack is in a neighborhood where homes go for about $100,000 a week in August.