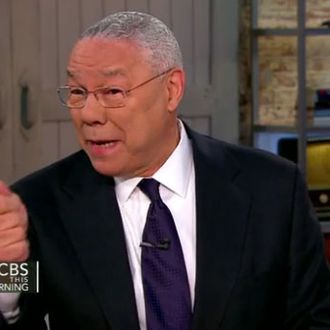 If you thought George W. Bush's shower painting was scandalous, you'll love the hacker Guccifer's latest haul. Months after first accessing the e-mail account of former secretary of State Colin Powell, the hacker has strategically leaked intimate messages with a much younger woman, prompting Powell to deny an affair, despite how it looks. "We occasionally attended the same diplomatic and international meetings," said the 76-year-old retired general of Corina Cretu, 45, a Romanian diplomat. "Over time the e-mails became of a very personal nature, but did not result in an affair. Those type of emails ended a few years ago. There was no affair then and there is not one now," he said in a statement to the Smoking Gun. 
A discreet link to the messages (and pictures) in question was dropped by Guccifer onto Powell's popular Facebook page and on a profile belonging to another former general. According to TSG, "Cretu calls [Powell] the love of her life and describes a relationship that spanned more than a decade. The 2010-2011 e-mails would leave most readers with the clear impression that the forlorn Cretu is writing about the twilight of a romance." Powell also advised the woman to get rid of the pair's messages.
"In light of what was happening it seems obvious to ask Ms. Cretu to delete emails," Powell told TSG. Of the images they shared, he said, "She sent photos on a regular basis. Lots of family photos with her nieces, who she adores, family reunions, formal business sessions, her wedding and some bathing suit photos … Never anything improper."
The Smoking Gun, along with Gawker and Cryptome.org, has served as a platform for Guccifer's ongoing reign of terror, which has targeted the Clinton, Bush, and Rockefeller families, along with Candace Bushnell and the rest of the "Illuminati." Somehow, he hasn't been caught yet. Guccifer, asked how he gained access to Powell's account, said to TSG, "these are irrelevant extraneous technical questions." But yes, Colin Powell has an AOL e-mail address.