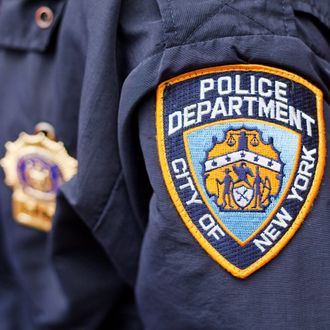 After police roughed up New York Times photographer Robert Stolarik last August, they arrested him for obstructing government administration and resisting arrest. Those charges have since been dropped, and on Monday the arresting officer himself, Michael Ackermann, was indicted for allegedly lying about why he arrested Stolarik. Ackermann pleaded not guilty to several counts of falsifying business records and tampering with public records, the Associated Press reports. "If convicted on the top count, he faces up to seven years in prison and could lose his job," the Times adds.
Ackermann's report said Stolarik had flashed his camera in Ackermann's face several times as police told him to stop photographing a girl's arrest. But according to the Times, Bronx District Attorney Robert Johnson's office didn't find any photographic evidence of a flash being used, nor did any witnesses corroborate Ackermann's report.
Last year, police said in a statement that Stolarik had "inadvertently" hit an officer with his camera and "violently resisted being handcuffed." Stolarik told Daily Intelligencer at the time: "My camera hitting anybody is an untruth. … They just get to say whatever they feel like saying and then charging me with whatever they feel like charging me with to justify their actions. They were violent toward me, and they were violent toward the media."
An attorney representing Ackermann, who is free without bail, declined comment to either The Times or AP on Monday. Stolarik, who has spoken out about two previous confrontations with police while he was covering Occupy Wall Street, also had no comment for either organization.