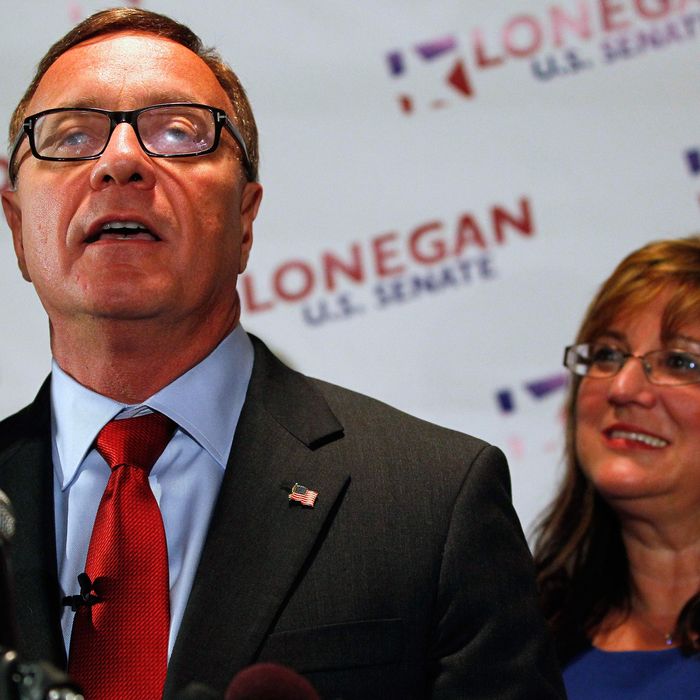 Steve Lonegan has a wife because he's a Real Man.
Photo: Rich Schultz/AP/Corbis
During an interview with Newsmax yesterday, Republican New Jersey Senate hopeful Steve Lonegan said he doesn't know if Corey Booker is straight or gay. However, he would just like to repeatedly point out that Booker (like many straight male TV personalities, professional athletes, and Bruce Springsteens, and a growing number of normal unfamous dudes) does get manicures and pedicures, so at the very least he is not a Real Man™:
"As a guy, I personally like being a guy. I don't know if you saw the stories last year. They've been out for quite a bit about how he likes to go out at three o'clock in the morning for a manicure and a pedicure," Lonegan said.

He also told Steve Malzberg: "I don't like going out in the middle of the night, or any time of the day, for a manicure and pedicure. It was described as his peculiar fetish …

"I have a more peculiar fetish. I like a good Scotch and a cigar. That's my fetish but we'll just compare the two."
Lonegan is right: There is definitely nothing gay-seeming at all about a fetish for sucking on big, girthy cigars.