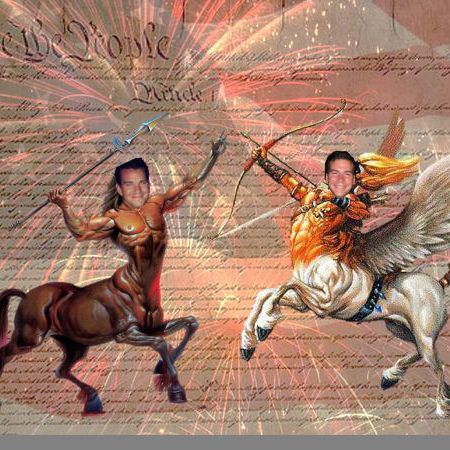 An image from the original Craigslist posting.
Exactly six months ago, Albany-raised brothers Mike and Dave Stangle sought out dates on Craigslist for their cousin's upcoming wedding. This may very well be something that happens with regularity on Craigslist, but this time, the ad, which featured centaur photos and jokes about creepy uncles, went viral. As dictated by Viral Law, the brothers promptly appeared on Today, Good Morning America, and Anderson Cooper. And then the world moved on and generally forgot about the bros as their fifteen minutes ticked down to zero. But while nobody was paying attention, the bros managed to parlay those fifteen minutes into, well, a time span much longer than fifteen minutes.
Intent on capitalizing on their sudden fame, the brothers put together a book proposal. "We've always loved writing; we just had only ever done it to entertain family, our friends, and ourselves," Dave tells Daily Intelligencer in an e-mail. "We've also had a lot of life experiences. Good, bad, weird, funny. We thought it would be really fun to write about them." 
The people at Gallery, a Simon & Schuster imprint, agreed: They bought the proposal for an undisclosed sum. 
The brothers suggest that the book will be "kind of like Girls, but for boys, and girls," and promises to combine "really funny experiences with brutal honesty from a completely unfiltered male perspective." Very tentatively titled Coupla Sickos, it hits the shelves in the spring of 2014.
But the book is but one leg of the bros' vast entertainment empire. In April, Deadline reported that a pair of screenwriters had inked a seven-figure deal to write a script based on the brothers' Craigslist wedding scheme. Mike confirmed to Daily Intelligencer that they sold their life rights to Fox 2000, but — again — wouldn't say for how much.
"What we can tell you is that Rupert Murdoch personally landed his helicopter on our front lawn with a briefcase handcuffed to his wrist," the brothers told us. "We thought he was going to buy our life rights right there on the spot, but when he opened up the briefcase the only thing inside was a sleeve of Ritz crackers. That man is a tough negotiator."
The movie will be taking some plot-friendly liberties with real-life events, however. Though the script, according to Deadline, has the "hard-partying bros" selecting dates who end up "being even bigger messes than they are," in reality, Dave and Mike, despite receiving thousands of applications, ultimately took a pair of "hometown gals" who they've known since childhood. (Frankly, this seems like a perfect Hollywood ending, but we'll leave the screenwriting to the screenwriters.)
"When it came down to it, it was our cousin's day," Dave says. "We had gotten enough attention for the months prior to it. We were glad our dates didn't take any attention away from her."
However, for all the women who missed out on an opportunity to spend a few hours with the bros in March, today offers a second chance: The website CharityBuzz is auctioning off a "double date" in New York City with the most famous non-murder-y people in Craigslist history, with the proceeds going to a good cause. As of this writing, the current bid is $200, with a few hours to go.
"We promise the conversation will flow as freely as the wine," the brothers write in the auction's description, "and we'll get you to laugh somewhere between 10 and 40 times, usually ranging from smirks to hard chuckles." And they definitely won't ditch you for a pair of childhood friends this time!
Update, 5:30 p.m.: The charity auction has been extended for another nine days.