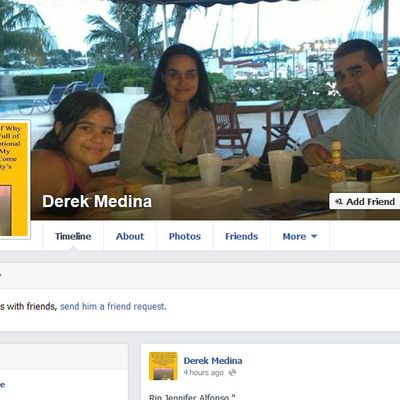 It seems too horrible to be true: Derek Medina, a South Miami man, posted an extremely graphic and upsetting photo that he claimed was his wife's dead body, slumped over and bloody. "Rip Jennifer Alfonso," he wrote early Thursday afternoon. "Im going to prison or death sentence for killing my wife love you guys miss you guys takecare Facebook people you will see me in the news my wife was punching me and I am not going to stand anymore with the abuse so I did what I did I hope u understand me." CBS Miami confirmed Medina's indentity and Alfonso's death with local police.
Police reportedly found the body at the couple's townhouse. Medina, whose page claims he acted on the USA show Burn Notice in 2009, "went to police Thursday morning to tell authorities that he had a domestic dispute with his wife, and then shot her," according to CBS. "Medina had just changed his profile picture on the social networking site to a picture of himself, a woman, and a young girl some 15 hours before the final post allegedly of Alfonso's body."
The page, which remained live on Facebook for hours, featured confused comments from friends, none of whom could believe what they were seeing.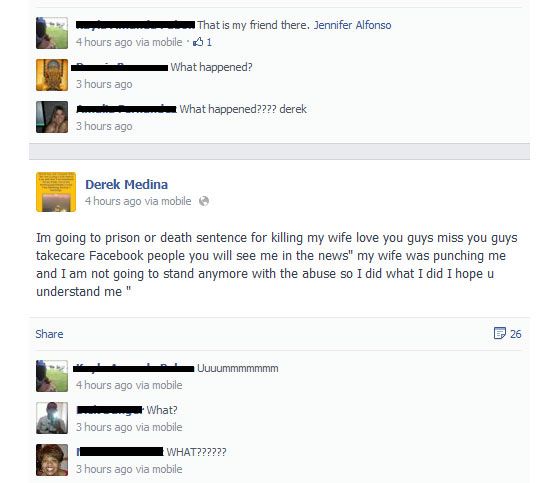 The AP has a full account of the killing, via law enforcement:
According to the affidavit, the 6-foot-2, 200-pound Medina said the couple became involved in a heated argument in an upstairs bedroom when he armed himself with a gun and pointed it at her. He said Alfonso left the bedroom, returning later to say she was leaving him. He says he went downstairs and confronted her in the kitchen, when she began punching him. He claims he went back upstairs to get his gun and confronted her again, at which time she grabbed a knife. Medina said he was able to disarm her and put the knife in a drawer, but that when she began punching him again, he shot her several times, the affidavit says.
Medina's father said his son came over after the shooting and admitted to murdering Alfonso. "He just said that his wife picked up a knife on him, and they had a big fight, and he shot her," the father explained. "He came to my house, and all he said was, 'I need to go to the police. I need to turn myself in.'" He added, "They were married for three years, and then they got divorced, and they got remarried last year." A young girl thought to be Medina's 10-year-old daughter was discovered physically unharmed at the murder scene.
With echoes of George Zimmerman, a neighbor told a local NBC affiliate that Medina "walks around with a concealed gun, so he tries to be the neighborhood watchguy. He's always there late night and he's weird to me he's always kind of looking around and trying to be a hero."
Medina's Facebook, along with the gory image (warning: very, very graphic), were removed after a few hours. "The content was reported to us," a Facebook spokeswoman said. "We took action on the profile — removing the content and disabling the profile, and we reached out to law enforcement. We take action on all content that violates our terms, which are clearly laid out on our site."
Medina's YouTube channel remains, featuring a video uploaded Tuesday, titled "Work hard play hard," depicting Medina kicking and punching:
And here's the couple together in "paradise":
Miami New Times notes that Medina appears to be a "prolific publisher of self-help e-books," with titles like How I Saved Someone's Life and Marriage and Family Problems Thru Communication, How a Judgmental and Selfish Attitude Is Destroying the World We Live in Because the World Is Vanishing Beneath Our Eyes, and If the World Ended Today How Would You React to Saving the World or Helping the World or Would It All Be Over for You.
From one Barnes & Noble overview:
This book is a great book to learn how to make your marriage and relationship with others better by understanding the meaning of life and the purpose of living and being there for loved ones. The central point is how communication made James' world turn around into a world better than he ever expected. The author talks about the true meaning of love, marriage, peace and happiness.
The books are listed on a site called EmotionalWriter.com. "This book is about how the world is preventing us from achieving our dreams, how the court system is so corrupted, how the world is so corrupted and how money has control over our lives and how we treat society," he explained. "My goal as an author is to offer self help so enjoy the five books I have created and stay tuned for future work by yours truly, emotional writer Derek Medina."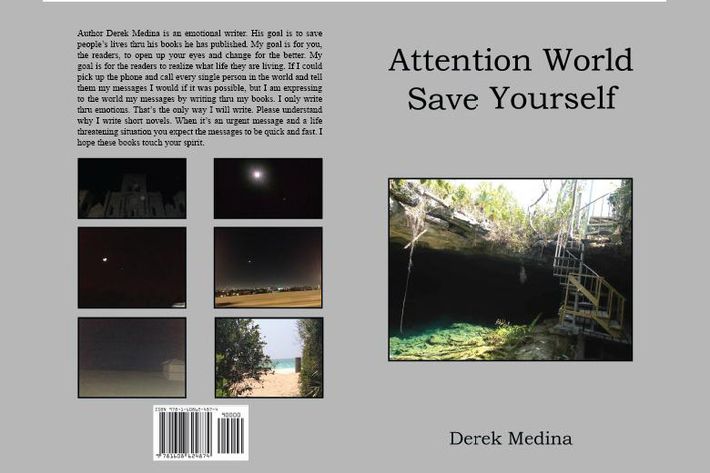 Here is Medina's mugshot: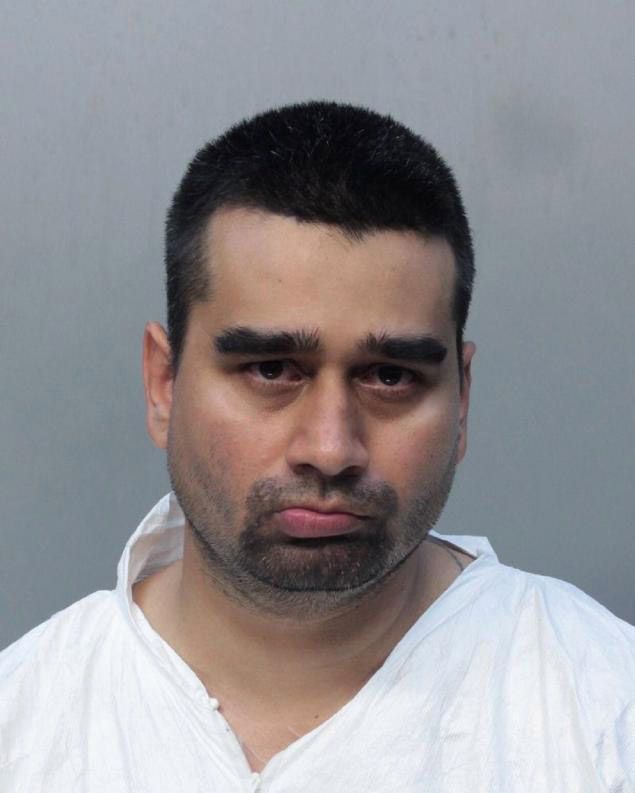 This post has been updated throughout.