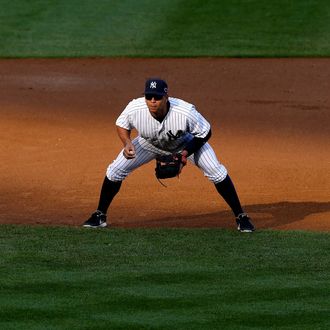 Photo: Al Bello/2012 Getty Images
The least popular man in baseball may not have hit bottom: 60 Minutes reports that when news of the Biogenesis anti-clinic first broke earlier this year, members of Alex Rodriguez's "inner circle," potentially in an effort to spread the blame, "obtained and leaked documents that implicated Milwaukee Brewers slugger Ryan Braun as well as his own Yankees teammate, catcher Francisco Cervelli, in the doping scandal that has enveloped Major League Baseball." While some of the names in the original documents implicating A-Rod were redacted, his crew gave the full list to Yahoo! Sports, according to CBS, which could further complicate his already ugly appeal of Bud Selig's 211-game suspension.
"The allegations are untrue and are another attempt to harm Alex — this time by driving a wedge between Alex and other players in the game," said his lawyer David Cornwell. "While Alex focuses on baseball and repeatedly states that he is going to respect the appeal process, the drumbeat of false allegations continues." But 60 Minutes cited two sources that claimed it was Rodriguez behind the release of the other names, most notably Braun, but also including Blue Jays outfielder Melky Cabrera and others.
If true, the questionable move may have violated the confidentiality clause of baseball's collective bargaining agreement. At arbitration, MLB plans to argue that Rodriguez's massive suspension is a result of prolonged offenses and an attempt to "obstruct and frustrate" its investigation. News of more meddling could hurt Rodriguez's case, whatever it may be.
And then there's the obvious part: This looks terrible. Beyond any rule-breaking, ratting on other players is yet another offense on an ever-growing list of why A-Rod's reputation, if not his career, may be doomed. If the play to leak other names was about tempering an onslaught of bad press, it could not have been more nearsighted.