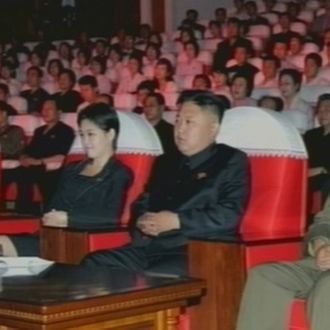 Photo: Courtesy of Korea Joon Gang Daily?????/
Only one news outlet is reporting that Kim Jong-un's ex-girlfriend (and once-rumored wife) Hyon Song-wol, known for her song 'Excellent Horse-Like Lady,' was arrested and then executed along with fellow musicians earlier this month. But it's a big news outlet: Chosun Ilbo is one of South Korea's main daily papers, with a circulation of 2.3 million. That of course doesn't prove or disprove the report, but at least this is more than a Twitter rumor.
Chosun's story cites unnamed sources in China, who said Hyon was one of a dozen members of the Unhasu Orchestra and Wangjaesan Light Music Band who were arrested on Aug. 17, accused of filming themselves having sex, distributing the tapes in North Korea and China, and also possessing Bibles. The source said they were killed by machine gun in front of their families, who were then sent to labor camps.
The Chosun Ilbo article includes one bit of background detail that suggests this might (might!) be more than a whole-cloth rumor: Since Kim's father, Kim Jong-il, ordered him to stop dating Hyon, who he met a decade ago, "there have been rumors that the two were having an affair." Kim's actual wife, Ri Sol-ju, used to perform in the Unhasu Orchestra as well as Hyon. The paper notes, "Whether she had any hand in the executions is unclear."
Frustratingly, when dealing with news from inside the closed state, it's both impossible to fully believe anonymously sourced reports such as this one, and often impossible to obtain anything more concrete.