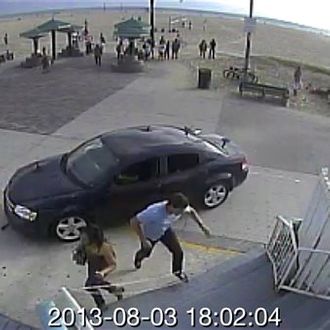 Security camera footage of the incident.
In what was an unusually violent scene for the typically idyllic — if eccentric — Venice Beach in Los Angeles, a man driving a black Dodge Avenger drove onto the boardwalk around 6:00 p.m. Saturday, plowing through the crowd of visitors with the apparent intention of hitting as many as possible. One eyewitness remarked that "the driver was out for blood," while KCBS reported witnesses telling police and reporters he "seemed to be in control of the vehicle, deliberately trying to hit people." Of the twelve people he did hit, one died at a nearby hospital hours after the crash. City fire spokesman Brian Humphrey said that another "was in critical condition, two more were in serious condition, and the remaining eight had minor injuries," according to USA Today.
Despite the many witnesses, the car carrying the suspect sped away, though it was found an hour later. At the same time, a man fitting the description of the driver (a white man in his twenties wearing a baseball cap) walked into a Santa Monica police station telling officers he was involved in the incident. Los Angeles police Lieutenant Andy Neiman said they are still questioning the young man, who remains unidentified.
Update: An unnamed suspect was arrested at police headquarters in downtown L.A. for the deadly hit-and-run, according to LAPD sources. Neiman also told the LA Times that the man who turned himself in at the Santa Monica station is "connected" to the incident.
Update II: An LAPD spokeswoman identified the man who turned himself in as Nathan Louis Campbell. He was booked for murder at 2:45 p.m. local time. Meanwhile, the L.A. coroner identified the victim who died as Alice Gruppioni, a 32-year-old woman who was visiting from Italy.