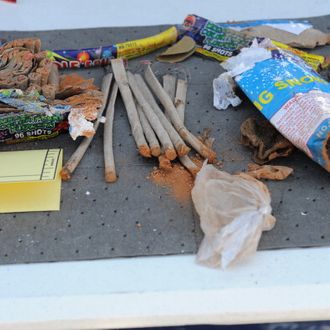 Photo: Yoon S. Byun/The Boston Globe via Getty Images
Prosecutors have not accused alleged Boston bomber Dzhokhar Tsarnaev's friend Robel Phillipos with conspiracy for removing a backpack full of empty fireworks from his dorm room several days after the bombing, as they have his two other friends Dias Kadyrbayev and Azamat Tazhayakov. But they have accused him of lying to investigators. And on Thursday, a federal grand jury indicted Phillipos on two counts of making false statements. Phillipos allegedly went with to Tsarnaev's room with Kadyrbayev and Tazhayakov, who prosecutors say removed the backpack and a laptop, later throwing them in a garbage can, from which they were carted off to a landfill. He initially told investigators he didn't remember going to the room.
Phillipos told police he was asleep in the apartment he shared with Kadyrbayev and Tazhayakov when they allegedly went to Tsarnaev's room. "But in a fourth interview, on April 26, admitted to investigators that the three had gone to the dorm room, seen seven red tubular fireworks in Tsarnaev's backpack, and then disposed of the bag," USA Today reports. If found guilty, Phillipos faces eight years in prison and a $250,000 fine. Kadyrbayev and Tazhayakov, who were indicted earlier this month on charges of conspiring to obstruct justice and obstructing justice, face twenty years in prison.