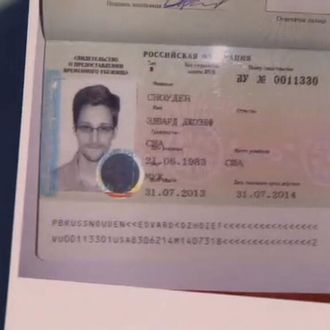 Photo: @RT_russian/Twitter
Leaker turned airport squatter Edward Snowden has been granted temporary asylum in Russia, his lawyer said today, and has finally left the transit zone where he's been living for more than a month. "I already escorted him out of the airport into a taxi," said the attorney representing him locally, Anatoly Kucherena. Following copious paperwork, press coverage, and at least one false start, Snowden officially crossed into Russia with approval that will allow him to live in the country for one year, with the possibility to renew in one-year increments. The 30-year-old former NSA contractor's location has not been disclosed.
RT has a glimpse of Snowden's passport, now decked out in beautiful Russian:
WikiLeaks is also playing a role, claiming on Twitter that Snowden "has now left Moscow airport under the care of WikiLeaks' Sarah Harrison." The group added, "We would like to thank the Russian people and all those others who have helped to protect Mr. Snowden. We have won the battle – now the war."
When hopping a flight to Latin America started to look less than likely, Kucherena said Snowden is "planning to arrange his life here. He plans to get a job." Time to boot up that LinkedIn profile.
Update: WikiLeaks, in a very WikiLeaks statement, describes its part in the Snowden saga:
WikiLeaks, whilst being a publishing organisation, also fights for the rights and protections of journalistic sources, and so has taken a leading role in assisting Mr Snowden secure his safety. Mr Snowden, an American citizen, was forced to flee his country to enable him to safely reveal to the public the crimes of his government. President Barack Obama while elected on a platform promising to protect whistleblowers, has now prosecuted more national security whistleblowers than all other presidents in United States history combined. This bellicose response from the US administration makes it clear that Snowden could not receive a fair trial.
The rest is here.