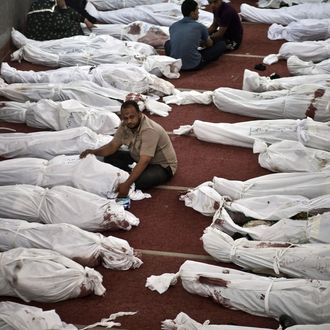 Egyptian man mourns in makeshift morgue.
Photo: MAHMOUD KHALED/AFP/Getty Images
"At one landmark mosque, relatives stood over the bodies of up to 240 dead, shrouded in white and laid out in neat rows," the Times reports. "The ice keeping the bodies chilled was melting as household fans played over the makeshift morgue. Many of the bodies seemed to be badly burned."
The death toll from the military's crackdown against supporters of Mohammed Morsi — the democratically elected former president who was deposed in a coup last month — has soared to at least 525, with over 3,000 injuries. Secretary of State John Kerry called the violence "deplorable" yesterday, but the United States has yet to take any meaningful action. "Egyptians know the U.S. has strategic interests at stake — military access and regional stability — we are unlikely to jeopardize," says Middle East analyst Jeffrey Martini.