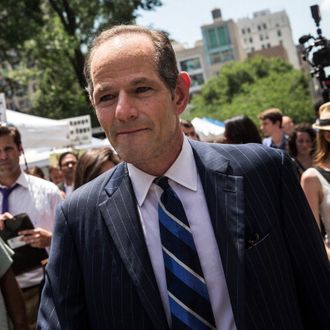 NEW YORK, NY - JULY 08: Former New York Gov. Eliot Spitzer collects signatures from citizens to run for comptroller of New York City on July 8, 2013 in New York City. Spitzer resigned as governor in 2008 after it was discovered that he was using a high end call girl service.
Photo: Andrew Burton/Getty Images
"I haven't read a novel in 30 years, I've lived one," said the would-be comptroller during an interview quoted in a New York Times essay on pervy Jewish politicians (really). Remember, this is a man who has repeatedly blamed "hubris" for his hooker-fueled 2008 downfall.