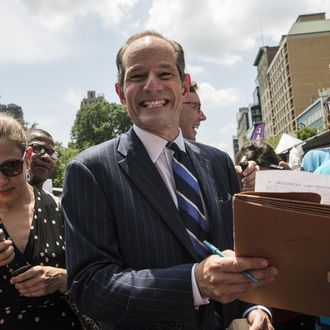 Photo: Andrew Burton/2013 Getty Images
As we were reminded last week, when a New York Times reporter finally got to look at the last two years of Eliot Spitzer's tax returns, the aspiring  city comptroller is a very wealthy guy who can afford to pay for his campaign on his own, which is what he has been doing. And now, thanks to newly released campaign finance documents, we now know exactly how much he has shelled out to defeat Scott Stringer: Spitzer has donated $3.65 million to his own campaign since declaring his candidacy on July 7, and he has spent $2.6 million of it in the last month alone. $271,831 of that went to his rushed effort to collect enough signatures to simply get himself on the ballot, which included payments to consultants, attorneys, and, reportedly, $800-a-day canvassers. (His Midtown petitioning party cost $11,341.) $2 million has been spent on TV ads.
Meanwhile, Stringer spent just $173,355 in the same period, including $101,800 on polling, and has spent a total of $853,250 on his campaign so far. Stringer also raised $308,000 between July 12 to August 5, putting the contents of his war chest at $4.6 million. (He's also receiving some help from anti-Spitzer PACs.) Because Stringer is participating in the city's campaign finance program, his spending is capped at $6 million — up from the previous $4 million limit, which was increased when it became clear that Spitzer planned to spend at least $2 million on the race. If Spitzer were to spend $12 million, Stringer's spending cap would be eliminated. However, Spitzer said last week that he had "no plans" to fork over that much money, though a spokesman assured everyone that the campaign would "spend enough to get our message out there."
And it looks like Team Spitzer does need to keep spending: While the latest numbers still have Spitzer beating Stringer by either four or twelve points (according to Quinnipiac University and Wall Street Journal / NBC Marist polls, respectively), the very recognizable former governor's lead sounds less impressive when you consider that, in the last three weeks, he has spent three times as much as the increasingly feisty but still somewhat unknown Manhattan borough president has spent on his entire campaign.