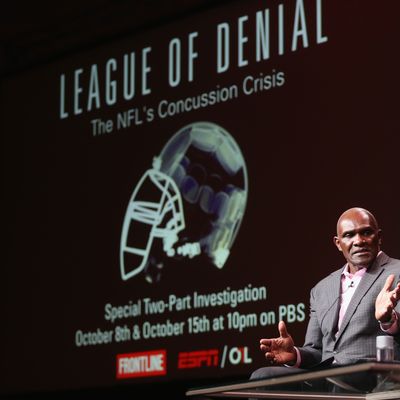 The
League of Denial
panel at the 2013 Summer Television Critics Association tour.
Photo: Frederick M. Brown/Getty Images
For the past fifteen months, ESPN and PBS's Frontline have been collaborating on the documentary League of Denial, about the NFL's handling of football's concussion crisis. Yesterday, ESPN decided that it no longer wanted to be associated with the film, which is based on the work of two ESPN reporters who are releasing a book of the same name. The reason? A supposed lack of "editorial control." But the Times reports today that ESPN, which airs Monday Night Football, pulled out of the project because the NFL told them to, perhaps not in so many words:
Pressure from the National Football League led to ESPN's decision on Thursday to pull out of an investigative project with "Frontline" regarding head injuries in the N.F.L., according to two people with direct knowledge of the situation.

… At the combative meeting, the people said, league officials conveyed their displeasure with the direction of the documentary, which is expected to describe a narrative that has been captured in various news reports over the past decade: the league turning a blind eye to evidence that players were sustaining brain trauma on the field that could lead to profound, long-term cognitive disability.
The irony here is that, in the words of PBS, while "ESPN's decision will in no way affect the content, production or October release" of League of Denial, the controversy that ESPN and the NFL have ginned up just provided the film with the best hype it could ever hope for. Is there anyone now who doesn't want to find out what has the NFL so nervous?
The headline of this post has been changed.