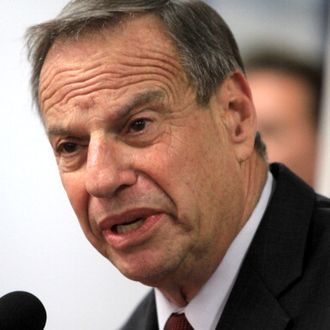 Photo: Bill Wechter/Getty Images
The latest sexual harassment allegation against San Diego Mayor Bob Filner comes from a nurse caring for a disabled Marine veteran who says Filner propositioned her to go out with him in exchange for helping her client resolve a problem with the Department of Veteran's Affairs. This one's particularly creepy not just because of the allegation that Filner wanted to bargain for sex over a veteran's health, but because he specifically requested a public appearance with the nurse.
"He made it very clear that his expectation was that his help for Katherine depended on my willingness to go to dinner with him, spend personal time with him and be seen in public with him," Nurse Michelle Tyler said during a press conference on Monday, referring to her client, U.S. Marine Katherine Ragazzino. Tyler and her attorney Gloria Allred (surprise!) say they don't plan to sue "at this time." But of course they will. Meanwhile, Allred has asked San Diego City Attorney Jan Goldsmith to investigate the incident.
But really, wouldn't such an investigation just be a waste of time? Filner has already started his two-week behavioral therapy course, which is the most he can possibly do to address these now-eleven allegations of grossly inappropriate conduct while in elected office.