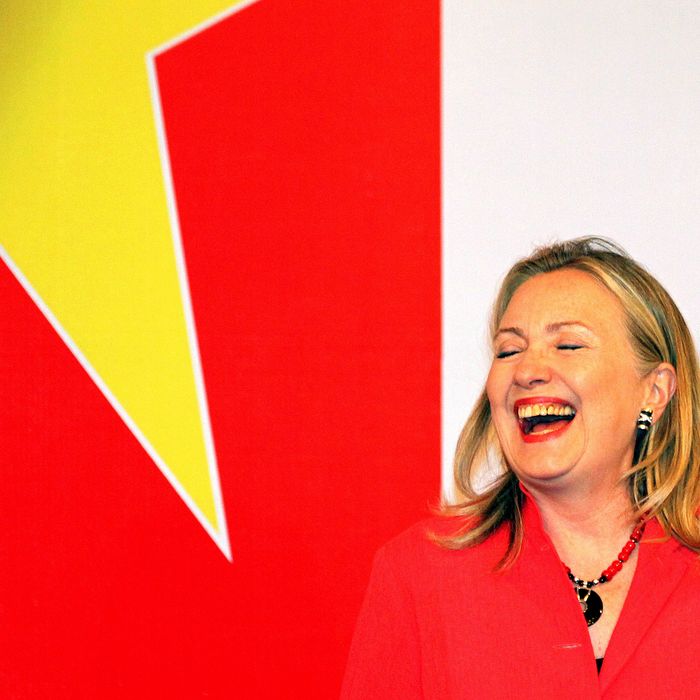 Photo: Luong Thai Linh/AFP/GettyImages
Every week, New York Magazine writer-at-large Frank Rich talks with contributor Eric Benson about the biggest stories in politics and culture. This week: Reince Priebus throws an ill-considered fit, Jeff Bezos buys the Washington Post, and Obama yucks it up with Jay Leno.
RNC chairman Reince Priebus delivered an ultimatum to CNN and NBC earlier this week: Pull the plug on your planned Hillary Clinton film projects, or we won't allow you to air the 2016 GOP primaries. Priebus's stance against the Hillary films (if not his petulant threats) has been backed by some unlikely allies, among them David Brock and Maureen Dowd. Do you think the RNC chair has a point? And, tactically, is this a smart fight for him to pick?
It seems that almost no one debating this has seen the Oscar-winning documentary Inside Job directed by Charles Ferguson, who CNN has hired to do its Hillary documentary. It is a scathing (and superb) takedown of the Wall Street financial establishment that looted the country during the bubble and precipitated the crash. My guess is that David Brock has seen Inside Job, and that might explain in part why Media Matters is against Ferguson taking on the assignment for CNN: It's impossible to imagine that Ferguson would do a hagiography of Hillary, whose husband's administration empowered many of the villains in Inside Job. (And it tells you what kind of idiot Priebus is that he is looking a gift horse from CNN in the mouth.) As for the NBC miniseries starring Diane Lane, does anyone really believe that such a project long before the election, broadcast on a network often seen by fewer viewers than Univision, is going to seriously alter public perception of someone as well known at this point as Hillary Clinton? Perhaps most idiotic of all is Priebus's threat to bar GOP presidential primary debates from airing on CNN and NBC in retaliation for those networks' "in-kind donations" to Hillary. Does he really want to go there? Fox News, after all, is a 365-days-a-year in-kind donation by Rupert Murdoch to his political party. But let's say for the sake of argument that Priebus pulls off his boycott and even achieves what is surely his dream scenario — that all Republican debates be held under the auspices of Roger Ailes at Fox. What the GOP will end up with is a presidential field that panders entirely to the party's base — the perfect way to facilitate, say, a Paul-Cruz ticket, provided that Herman Cain or Michele Bachmann doesn't make a comeback. Good luck with that in November 2016.
Amazon founder Jeff Bezos bought the Washington Post on Monday. Some in the media have cheered Bezos's purchase as the potential salvation of newspapers. Others suspect he bought the Post to exert political influence in the capital. What's your reaction to the news?
A brief, vague statement to Post employees aside, Bezos himself has said nothing about what he intends to do with the Post. If you read the reams (and I do mean reams) of media speculation on his plans, you can find every conceivable scenario, ranging from the villainous (he's found a journalistic vehicle to further Amazon's ruthless corporate interests on the Hill) to the utopian (he'll save the news business with creative ideas tantamount to those that remade American retailing). But no one knows, and it's possible (if unlikely) that he will just subsidize the Post from afar as an altruistic public service and really keep the paper's current management in place over the long term, as he says he is doing for now. My own, equally worthless speculation is this: Bezos is a titanic businessman who swings for the fences, and he didn't buy the Post to let it sit there and collect dust as if it were a wealthy guy's image-enhancing art collection. Bezos got into the media business for the same reason such other tech proprietors as Michael Bloomberg and Facebook co-founder Chris Hughes (the owner of The New Republic) did: to make a difference and to win. Nobody knows how he could or will do that, because if anybody did know how to save the newspaper business, the Washington Post would not have been slowly (not so slowly, actually) dying under the Graham family's devoted and honorable management. The fact that the Times felt compelled to release a long, after-business-hours statement last night saying it was not for sale shows just how much Bezos has rattled the industry in 48 hours, and by doing nothing but writing what for him is a pocket-change check. Fasten your seat belts.
On Tuesday night, President Obama went on The Tonight Show to talk with Jay Leno about topics ranging from his golf game to domestic surveillance. Obama's approval ratings are down. Of course, he'll never have to deal with another election in his life. How important is his popularity now? And do late-night TV appearances have any effect?
It was fascinating to turn on Andrea Mitchell's show on MSNBC the day after and watch the assembled Washington panelists earnestly chatter about what a "new development" it was that a president would talk about substantive matters to an entertainer on a talk show. To quote SNL: Really? Where have you been for the past decade? Time to stop going to all those parties chronicled in This Town and turn on a television that's not tuned in 24/7 to cable news. In any case, I doubt that Obama's poll numbers, which are mediocre but not dire, will be affected at all by this appearance (graceful as it was); as long as his numbers are roughly four times higher than Congress's (and they are), he's in safe political territory. What I found most interesting about the Tonight outing was the freedom that Jay Leno seemed to be enjoying now that he, like the president, is a lame duck. He had no qualms about asking informed, forthright questions about government contractors — not just Edward Snowden, but Blackwater — and the oppression of gays and lesbians in Russia. This is not the cautious Jay that usually erred on the side of bland. 
Speaking of which: The Winter Olympics is six months away, and Russia's new edict outlawing any public support of homosexuality is ramping up into a major controversy. Russia's anti-gay restrictions will apply to athletes (and everyone else) at the Sochi Games. Should the U.S. boycott the Olympics in protest?
This is an untenable situation, and, as Obama indicated in his Leno interview, it's weighing on him along with the other matters, including the granting of asylum to Snowden, that led him to cancel his summit with Putin. A boycott should not be ruled out, and I suspect that gay Olympic athletes will (and should) have a major role in weighing that question. But I also think a smart early strategy would be to pressure NBC, which paid $775 million to broadcast the Games and so far has issued only anodyne statements about the situation it will confront in Russia. Chad Griffin of the Human Rights Campaign has called for NBC News to do serious coverage of how the Russian government treats its gay citizens — surely a must, but only a start. As Jeré Longman wrote in the Times, NBC's journalists on the scene in Sochi could be prosecuted merely "for addressing the issue of homosexuality," which they will surely have to do. Do NBC and its corporate parent, Comcast, think this affront to human rights is just going to go away? They, and all the other American corporate sponsors of the Games, will have to take a strong stand because too many of their customers, straight and gay, will not stand for the Russian government's abuse of human rights.