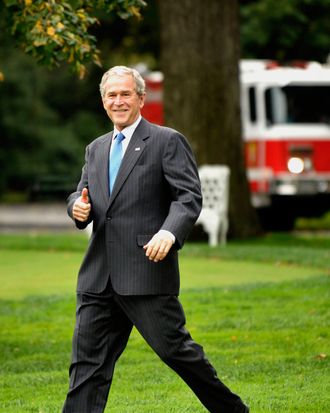 U.S. President George W. Bush gives the thumbs up sign as he departs the White House in Washington, D.C., U.S., on Friday, Oct. 17, 2008. Bush is spending the weekend at Camp David, Maryland, where he is scheduled to meet tomorrow with French President Nicolas Sarkozy and European Commission President Jose Barroso.
Photo: Ken Cedeno/Bloomberg News via Getty Images
During a routine physical examination yesterday, "a blockage was discovered in an artery" of George W. Bush's heart, according to a statement released this morning. "At the recommendation of his doctors, President Bush agreed to have a stent placed to open the blockage." Bush is probably in much better shape than you are, so you're screwed.