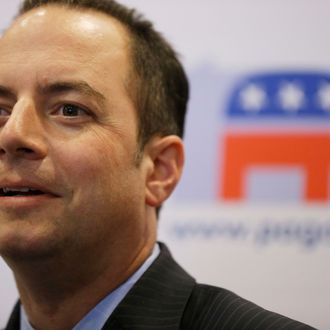 Priebus is so mad about those debates Hillary!
Photo: Matt Rourke/AP/Corbis
The Republican National Committee is following through on its threat to boycott CNN and NBC News by refusing to participate in the networks' primary debates if they don't scrap a planned Hillary Clinton documentary and miniseries. Time obtained the full non-binding resolution on the boycott, which is expected to pass easily when put to a vote Friday at the RNC's Summer Meeting. Priebus told Time that the last paragraph is the most important bit, suggesting (as many have surmised) that the RNC's shock and disappointment that news outlets – or rather their unrelated entertainment and documentary divisions – would show bias toward a particular candidate or political party isn't entirely genuine.
It states that the party "shall endeavor to bring more order to the primary debates and ensure a reasonable number of debates, appropriate moderators and debate partners are chosen, and that other issues pertaining to the general nature of such debates are addressed." The RNC is drafting formal rules on the debates, which may include severe penalties for candidates who go rouge and participate in unsanctioned events. Why subject Republican candidates to twenty debates when you can have a handful of dignified exchanges on a fair and balanced network like Fox News?