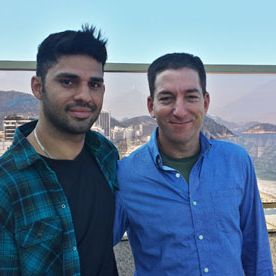 Guardian journalist Glenn Greenwald's partner, David Miranda, was detained for nine hours at Heathrow Airport on Sunday, the Guardian reports. According the paper, Miranda, who is a citizen of Brazil, was returning to Rio de Janeiro from a trip to Berlin, and was stopped by British officers as he was trying to make a connecting flight in London. Miranda was reportedly told he was being held under a provision of the U.K.'s 2000 Terrorism Act, Section 7, which applies "only at airports, ports and border areas" and "allows officers to stop, search, question and detain individuals" suspected of being involved in terrorist activities.
The 28-year-old was eventually released without charges, though officials kept his "mobile phone, laptop, camera, memory sticks, DVDs and games consoles." A Guardian spokeswoman said the paper was "dismayed to hear that the partner of a Guardian journalist who has been writing about the security services was detained," and added that they were "urgently seeking clarification" from the authorities on the incident. Scotland Yard confirmed that Miranda was questioned and released, but did not provide any details.
While in Berlin, Miranda visited Laura Poitras, a documentary filmmaker who has worked with Greenwald and Edward Snowden on NSA stories. The New York Times reported later that the Guardian paid for Miranda's trip to Berlin, and that he met with Poitras "to assist Mr. Greenwald." That detail came from Greenwald, though it was not mentioned in either of the initial Guardian pieces about Miranda's detainment. Greenwald told the Times that Miranda was carrying encrypted documents related to Snowden:
Mr. Miranda was in Berlin to deliver documents related to Mr. Greenwald's investigation into government surveillance to Ms. Poitras, Mr. Greenwald said. Ms. Poitras, in turn, gave Mr. Miranda different documents to pass to Mr. Greenwald. Those documents, which were stored on encrypted thumb drives, were confiscated by airport security, Mr. Greenwald said. All of the documents came from the trove of materials provided to the two journalists by Mr. Snowden.
Meanwhile, Greenwald, who is best known for his recent reporting on the NSA with the help of his now very famous source, offered his interpretation of what occurred: "To detain my partner for a full nine hours while denying him a lawyer, and then seize large amounts of his possessions, is clearly intended to send a message of intimidation to those of us who have been reporting on the NSA and GCHQ," he said. "The actions of the UK pose a serious threat to journalists everywhere."
In a separate Guardian piece, Greenwald wrote that the British "obviously had zero suspicion that David was associated with a terrorist organization or involved in any terrorist plot. Instead, they spent their time interrogating him about the NSA reporting which Laura Poitras, the Guardian and I are doing, as well the content of the electronic products he was carrying."
The Guardian and Greenwald both pointed out that nine hours is the maximum amount of time someone can be held under the British terrorism law before officers must release them or charge them with a crime. They also cited government materials showing that 97 percent of these detainments last under an hour.
Miranda finally made it home to Rio de Janeiro on Monday, and Greenwald was at the airport to greet him and speak to reporters. "I will be far more aggressive in my reporting from now. I am going to publish many more documents. I am going to publish things on England too. I have many documents on England's spy system," declared the righteously indignant journalist. "I think they will be sorry for what they did." Miranda also got a chance to talk about his experience at Heathrow. "I was in a room, there were six different agents coming in and out and talking to me" and questioning him "about my entire life." He added that he was only freed and given back his passport when he began yelling in the airport lounge. 
In response to questions about Miranda's ordeal, White House principal deputy press secretary Josh Earnest said that British officials gave their American counterparts a "heads up" indicating that the detainment "was likely to occur," though he insisted that "this is a decision that they made on their own and not at the request of the United States." He declined to say whether American authorities had access to the information collected from Miranda. He also wouldn't say whether the the U.S."tried to dissuade British officials from stopping Miranda," possibly because people can figure that one out on their own. Meanwhile, Britain's Labour Party has called for an investigation into whether the stop constituted a "misuse" of anti-terror laws.

This post has been updated throughout.