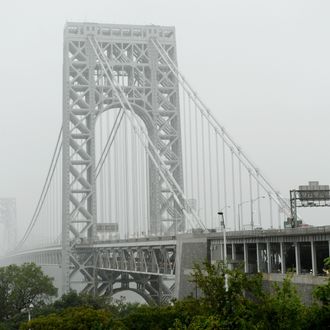 Photo: STAN HONDA/2010 AFP
Bad news for people who don't have the option of making jokes about never going to New Jersey: The Port Authority has announced that workers will begin replacing sections of the old steel beams that support the George Washington Bridge's upper deck starting Monday. In order to complete the $82 million project, three of the deck's four lanes in one direction will be closed from 11 p.m. to 5 a.m. And once people are kind of used to that, the Port Authority will "extend the hours gradually until the closures last from 10 p.m. to 5 a.m. on weeknights and 11 p.m. to 9 a.m. on weekends," according to NBC New York.
"The goal is to keep the delays to no more than 60 minutes," brave Port Authority spokesman Steve Coleman told the New York Daily News. However, another Port Authority official, Cedrick Fulton, told NBC that a test run two weeks ago resulted in 90-minute delays (though, to be fair, it was done without any warning to the drivers of the 20,000 vehicles use the crossing on weeknights, not to mention the 50,000 that use it on weekend nights.) This major hassle is going to go on until the end of the year, with work crews alternating between the eastbound and westbound sides of the bridge.
"We are strongly advising drivers to use the [George Washington's] lower level or use other crossings," said Coleman for the benefit of the twelve drivers who wouldn't think to do that on their own. Meanwhile, Fulton pointed out that the construction "will always be respectful of Yankees games," which means work will happen on the eastbound (or city-bound) side on game nights. Those interested in entering New York for something that takes place after baseball hours will be on their own — or, more accurately, surrounded by tons of people in slow-moving traffic.