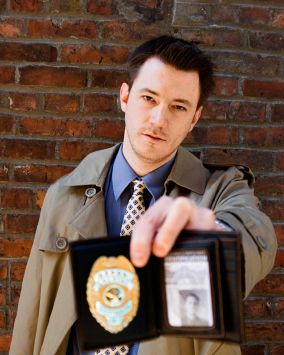 Detective showing his badge and ID (focus on the face, not the badge), a look of routine on his face. Background is a red brick wall. Portrait image on the ID card was shot by me and is available on iStockphoto. An alternative to this image, with the badge in focus is also available.
Photo: Rasmus Rasmussen/iStockphoto
A Manhattan housewife tried to pay a hitman $10,000 in jewelry and stamps to kill her husband for his life-insurance money but was foiled when the hitman turned out to be — all together now — an undercover cop. Hitmen are always, always undercover cops. There are no real hitmen.