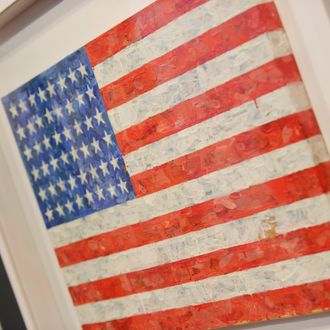 Photo: STAN HONDA/2010 AFP
It's hard to find good help. James Meyer was a studio assistant for Jasper Johns for more than 25 years and was responsible for, among other things, maintaining a file drawer in the artist's workspace in Sharon, Connecticut, containing pieces of art that were not yet completed by Johns — and not authorized by Johns to be placed in the art market. Yesterday morning, Meyer was arrested at his home in Salisbury, Connecticut, and appeared in federal court in Hartford that afternoon. This morning, federal prosecutors from the Southern District unsealed the indictment against him, which claims that between September 2006 and February 2012, Meyer took 22 artworks from this special file drawer and from elsewhere in Johns's studio and sent those pieces to a Manhattan art gallery. The gallery, which is not named, sold all 22 artworks for a total of about $6.5 million, of which $3.4 million went to Meyer.
The indictment offers a detailed look at how the alleged fraud took place, including the creation of fictitious inventory numbers, fake pages that Meyer inserted into a ledger book of registered pieces of art maintained at Johns's studio. Meyer told the owner of the gallery and potential buyers these pieces were gifts from Johns. To back it up, he provided sworn, notarized certifications stating that each piece was an authentic Johns work, that the art had been given to him directly by Johns, that he was the rightful owner of the piece, and that he had the right to sell that particular work.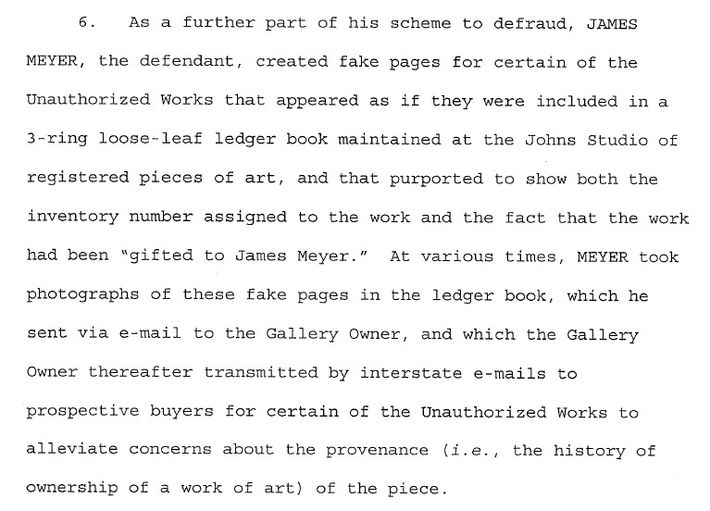 The sales came with a catch. Every buyer had to agree in writing that the perfectly legitimate pieces of art they were buying would be kept completely private for at least eight years; they couldn't loan, exhibit, or resell it. Everyone played along for a while.
But here's the thing. The same James Meyer who stands accused of selling his famous boss's artwork is, himself, an artist. According to his website, he was born in 1962 and attended the School of Visual Arts in the early eighties before going to work for Johns in northwest Connecticut, where Meyer apparently worked alongside many other artists in the area, even helping with an after-school art studio at the local high school.
In an interview about his own work, Meyer credited his boss as an inspiration. "Jasper has taught me to think about what I'm making before I make it," he said. "I think for weeks at a time before I begin a series, and then I produce the series in short period of time … It's curious, the process of developing an idea to the finished piece … " Of course, even when an artwork is done, the artist isn't always satisfied. In one of Meyer's shows, titled "Ironic Pentameter," he said, "there are a few works that are really me: Notes from Underground is one in particular — based on the novel by Dostoyevsky. There is this man narrating his story, trying to be something and always failing, and always blaming other people for his poor behavior. So he watches the world from his silent perch. I can't help but be like that in a way."