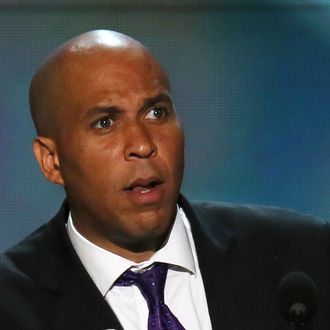 Photo: Alex Wong/Getty Images
In addition to tweeting all day, serving as the mayor of Newark, and running for a New Jersey Senate seat, semiprofessional superhero Cory Booker is also the co-founder of the obscure but well-funded video start-up #Waywire. As explained in Carl Swanson's profile of Booker in this week's New York, he's an expert networker with connections far beyond those of your average local politician and, as "mayor of the Internet," counts many rich and important people among his investors and advisers. But Waywire, which has "already endured a round of layoffs and had just 2,207 visitors in June," according to the Times today, just lost a member of its exclusive advisory board. He was 15, but his dad is Jeff Zucker.
The CNN president's 15-year-old son, the Times reported, was on the board — with stock options — until this afternoon, when he resigned after "his arrangement with Booker's venture was viewed in some quarters as being inappropriate." Breaking the news of the young Zucker's resignation was none other than a CNN spokesperson, speaking to a CNN reporter, on a CNN site. As for the stock options, they were "a 'de minimus' number," the spokesperson said, not that the kid needed them anyway.