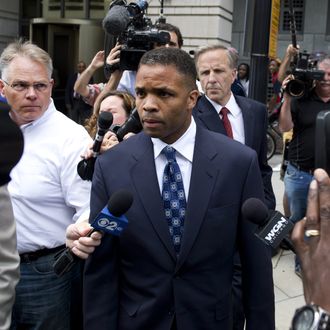 Former Illinois Congressman Jesse Jackson Jr., leaves the US District Court in Washington, DC, August 14, 2013, following a sentencing hearing. Jackson was sentenced today to 30 months behind bars and his wife, Sandi, got a year in prison for separate felonies involving the misspending of about $750,000 in campaign funds. The Jacksons will be allowed to serve their sentences one at a time, with Jackson Jr. going first. In addition to the 2.5 years in prison, Jackson Jr. was sentenced to three years of supervised release. Sandi Jackson was ordered to serve 12 months of supervised release following her prison term.
Photo: SAUL LOEB/AFP/Getty Images
"Today I manned up and tried to accept responsibility for the error of my ways," the former Illinois congressman — who spent $750,000 of campaign donations on "vacations, furs and Michael Jackson memorabilia" — said outside the courtroom. "Manned up," "got caught" —  basically the same thing.