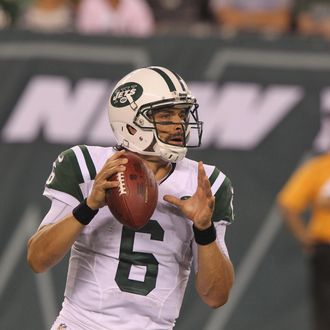 Mark Sanchez.
Photo: Al Pereira/Getty Images
The Jets, being the Jets, are making all sorts of headlines during training camp. This time around it's mostly because of their quarterbacks: the competition for the starting job, Rex Ryan's blunt assessment of Geno Smith, Mark Sanchez's injury in garbage time against the Giants, the behavior of the team's beat writers, the coverage of some of that coverage, and so on. Even the governor of New Jersey has chimed in. The Jets and their quarterbacks are national news, but even by Jets standards, it's rather exhausting.
We've been through this sort of thing before: Last year's off-season was dominated by Tim Tebow, but by that point, the Rex Ryan era had already become known for big talk and small-time controversies — the kind of things that can live on in the tabloids but may or may not have anything to do with actual football. It guarantees them headlines in a two-team city regardless of their record. But a year after the saga of Mark Sanchez and Tim Tebow — which was more talk-radio fodder than actual QB battle — it's easy to have Jets-controversy fatigue.
The Jets have had plenty of exposure under Rex Ryan, but unlike when they appeared on HBO's Hard Knocks in 2010, they no longer appear to be a team on the rise. And it's especially tough to get worked up when the stakes now seem so low. The Jets are widely expected to struggle this year, and the ultimate winner of the quarterback job may not be able to do anything about that. Mark Sanchez has proven his mediocrity (and some might say that's being generous), and his challenger for the starting job (Sanchez's health concerns aside) is an unproven rookie who they selected with the 39th overall pick.
Look, the NFL is so massively popular that any training-camp competition is news, to some degree. But this one feels hollow. No matter who wins, expectations can't be very high as the Jets look ahead to their 2013 season, and all the headlines in the world can't change that. They mostly earned their exposure during the seasons surrounding their time on Hard Knocks. Rex Ryan may have been the ringleader of a circus, but he also coached his team to deep playoff runs. But the Tebow soap opera of 2012 happened on a team that went nowhere, and many are predicting another long year for the Jets, no matter who starts the season at quarterback (and who ultimately gets the job as the season progresses). This was all a lot more fun when expectations were high.