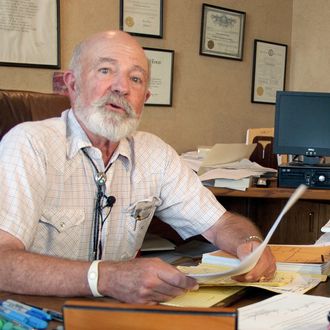 Judge Baugh
Photo: Matt Brown/AP/Corbis
Judge G. Todd Baugh did two things on Monday to cause outrage nationwide: He sentenced a convicted rapist to an absurdly light 30 days in jail, and he said in court that the victim (who later killed herself), was "as much in control of the situation" as her attacker, former teacher Stacey Rambold. He also described her as "older than her chronological age," both comments that have critics charging he blamed the victim. On Wednesday, Baugh apologized with much contrition for his comments, saying he "deserved to be chastised" for them. But he stood by his sentence. And as a movement forms to unseat the 71-year-old Baugh, the possibility of changing his ruling is looking pretty doubtful.
Since the story made the national media on Tuesday and Wednesday, tens of thousands of people have signed multiple petitions calling on Baugh to step down, and on Montana Secretary of State Linda McCulloch to unseat him. Protesters plan to picket on the steps of the Yellowstone County courthouse on Thursday. If that effort doesn't work, activists plan to campaign against Baugh in the 2014 election, one organizer told The Associated Press. Baugh said he wouldn't resign, the AP reports, but he hasn't decided whether he will run for another term.
Changing the sentence is a different story. "I can't instantly appeal this," Yellowstone County Attorney Scott Twito told the Billings Gazette. "I have no legal authority in Montana whatsoever to appeal a sentence because I disagree with the sentence handed down by the judge." He said his office would review the case for a possible appeal, which would be permissible if a factual or legal issue was identified.
Meanwhile, in a statement to the Los Angeles Times, Gov. Steve Bullock "said Baugh's comments left him 'angry' and 'disappointed,' but that the Judicial Standards Commission handles complaints about a judge's actions." So far, there's been no official repercussion announced for Baugh.