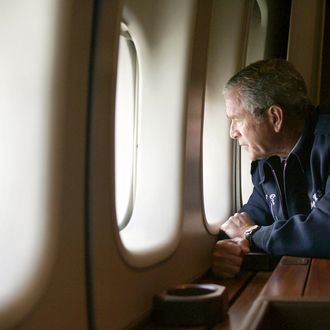 US President George W. Bush looks out the window of Air Force One 31 August, 2005, as he flies over New Orleans, Louisiana, surveying the damage left by Hurricane Katrina. Returning to Washington from Texas, Air Force One descended to about 5000 feet (1500 meters) to allow Bush to view some of the worst damage from Hurricane Katrina, which ravaged the Gulf Coast states of Louisiana, Alabama and Mississippi on 29 August. The aircraft was to fly low over the cities of New Orleans, Louisiana; Gulfport and Biloxi in Mississippi ; Mobile, Alabama and others before landing in Washington. Bush is scheduled to chair a meeting of a White House hurricane task force here later 31 August.
Photo: Jim Watson/AFP/Getty Images
According to the unabashed trolls at Public Policy Polling, 28 percent of Louisiana Republicans think President Bush was more responsible for the government's crappy response to 2005's Hurricane Katrina, while 29 percent feel Obama — merely one of 100 senators at the time of Katrina — was more responsible, and 44 percent say they were equally responsible. Obviously this is ridiculous, but, in defense of Louisiana Republicans, they don't like Obama, so.