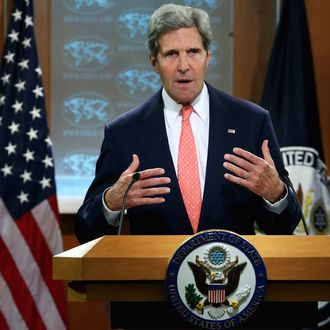 Photo: Chip Somodevilla/Getty Images
Following weekend reports that the United States and its allies are preparing for a military strike on Syria, Secretary of State John Kerry addressed the chemical-weapons attack that took place there last week. Kerry called the deadly incident "inexcusable," a "moral obscenity," and "undeniable." That last description carries particular weight, as President Obama said last year that the use of chemical weapons by Syrian president Bashar al-Assad would cross a "red line" that could prompt U.S. intervention in the country's two-and-a-half-year-old civil war. While the Syrian government has claimed that the attack was carried out by rebel fighters, Kerry strongly indicated that he and the rest of President Obama's security team believe Assad's forces were responsible.
"I spoke on Thursday with Syrian Foreign Minister Muallem, and I made it very clear to him that if the regime, as he argued, had nothing to hide, then their response should be immediate: immediate transparency, immediate access, not shelling," he said. "Instead, for five days the Syrian regime refused to allow the U.N. investigators access to the site of the attack that would allegedly exonerate them. Instead, it attacked the area further, shelling it and systematically destroying evidence. That is not the behavior of a government that has nothing to hide." The Syrian government agreed on Sunday to allow U.N. inspectors to examine the site of the attack, but even that was delayed when one of their vehicles was "deliberately shot at multiple times" by snipers in Damascus, which Kerry said "only further weakens the regime's credibility." 
Kerry went on to say that the Obama administration has been consulting with members of Congress and foreign leaders, and that the president is still working on "making an informed decision about how to respond to this indiscriminate use of chemical weapons." However, he added that Obama "believes there must be accountability for those who would use the world's most heinous weapons against the world's most vulnerable people." He did not explicitly mention the possibility of military intervention, but his statements would certainly make it difficult for the administration to justify inaction later on.