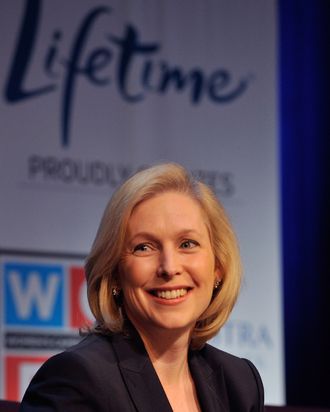 Senator Kirsten Gillibrand attends Lifetime Television's 2012 "Every Woman Counts" campaign at Hofstra University on December 2, 2011 in Hempstead, New York.
Photo: Joe Corrigan/Getty Images
Kirsten Gillibrand took over Hillary Clinton's Senate seat in 2009, and now she's following in her predecessor's footsteps once again by releasing a memoir (with help from Hillary's literary representative, Robert Barnett). The book, which is scheduled for fall 2014, will include stories about Gillibrand's life and upbringing, and a Lean In-esque message based on her Off the Sidelines initiative to get more women into politics. While presidential candidates are practically required to release a book in the lead up to the election, Gillibrand insists she's focused on getting Clinton elected in 2016. After all, there's always 2024.