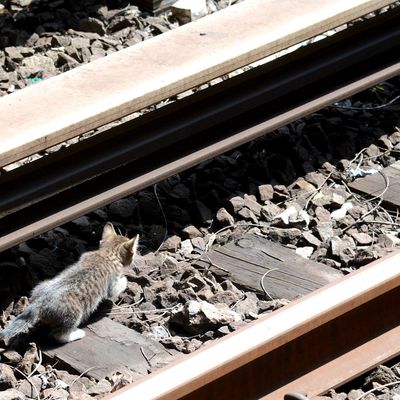 One of yesterday's subway kittens.
Photo: Marc A. Hermann
While the next mayor of New York will never have to personally decide whether to halt train service for a couple of hours in order to save a couple of vagrant kittens, knowing what the mayoral candidates would do in that situation might provide some interesting insight into how they approach difficult moral quandaries. So we asked them.
Republican front-runner Joe Lhota — whose previous job was, in fact, running the MTA — would not have stopped the trains. "No, Joe does not think a train line should be shut down" to save two kitties, a campaign spokesperson tells Daily Intelligencer. 
This puts Lhota at odds with his chief rival, John Catsimatidis, who points out to Daily Intelligencer in a peculiarly formatted e-mail that you can't spell Catsimatidis without "cats":
I am an Animal Lover
Especially CATS
Supposed they were
Baby Rats
Its up to the Policeman on the Scene to make decision
Not the Mayor
Republican candidate George McDonald, meanwhile, sees the benefits of keeping subway cats alive. "Just another innovative solution to the rat problem by the MTA," he told us. "Until we get control [of the MTA], it's the Governor's problem."
Although Daily Intelligencer reached out to the top five Democratic mayoral candidates, one-eyed-cat owner Anthony Weiner was the only one brave enough to take sides on this dicey issue. "If Anthony is elected mayor," his spokesperson Barbara Morgan tells us, "he will not only stop trains for kittens, he will personally crawl over the third rail to do it."
Update, 1:29 p.m.: A spokesman says Bill Thompson would "work to protect" the subway kittens in such a situation. 
Update 3:03 p.m.: "Chris would have stopped the trains for the kitties," a Quinn spokesperson tells us.