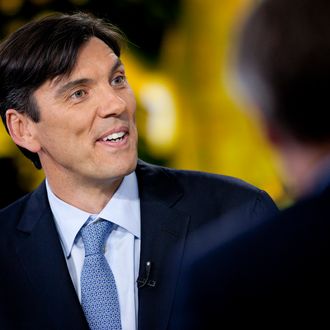 Photo: Scott Eells/Bloomberg via Getty Images
On Friday, AOL CEO Tim Armstrong convened a 1,000-person conference call to announce the company's decision to shutter or outsource about half of its hyperlocal Patch news sites. The plan will of course mean layoffs (or "impacts"), and Jim Romenesko reported that Armstrong got started early by abruptly dismissing an employee who took a photo of the CEO during the meeting. Romenesko has now published an audio recording of the episode, which features Armstrong explaining that he doesn't "care what the press says" and doesn't "care if people leak information" about a minute before interrupting his talk to verbally hand Patch creative director Abel Lenz a pink slip.
The firing ("Abel, put that camera down right now! Abel, you're fired. Out!") happens at the 1:50 minute mark, but listening to Armstrong's otherwise calm-sounding description of Patch's situation before and after really highlights the strangeness of the episode. Lenz wrote that he had "no comment" from Old Town Bar on Friday evening.