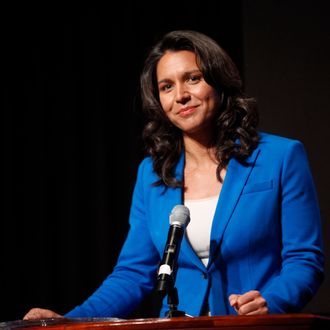 Rep. Tuslsi Gabbard.
Photo: Thos Robinson/2013 Getty Images
Aniruddha Sherbow's alleged death threat against Hawaii Congresswoman Tulsi Gabbard stands out in a few ways; it's especially horrific, and he made things a bit easier for law enforcement by e-mailing the threat directly to the FBI. An e-mail sent to the agency on August 2 read, "I, Aniruddha Sherbow, with the Divine as my witness, do hereby solemnly vow to find Tulsi Gabbard, wheresoever she may be, and to sever her head from her body." On Wednesday Sherbow was apprehended in Tijuana, Mexico.
Sherbow's history of harassing Gabbard dates back to when she served on the Honolulu City Council back in 2011. Gabbard said at the time that Sherbow contacted her more than 35 times in three weeks with messages that were "extremely inappropriate, profane, vulgar and sexual in nature." In March 2011, she obtained a three-year restraining order against Sherbow.
In recent e-mails to the Hawaii Reporter, Sherbow said he first felt compelled to contact Gabbard because they were "born into the same obscure Western-Hindu tradition as Tulsi, the Hare Krishna Movement, also known as the Brahma Madhva-Gaudiya Sampradaya." (Gabbard is the first Hindu member of Congress, as well as the body's first American Samoan and one of the first two female combat veterans). He told the paper:
Because of this last connection, I think she is counting on me not hurting her. And she is right to count on it, because it is in fact very difficult for me to hurt her. However, we all have our limits, and I have reached mine. At this point, if you stuck Tulsi's head in front of me, I'd have it off in two seconds flat. … I hoped the whole thing might have some good ending somehow, but I'm not seeing one.
Fortunately, the story appears to end with with Mexican authorities transferring Sherbow to the U.S., where he faces charges of "transmission of threats in interstate commerce."