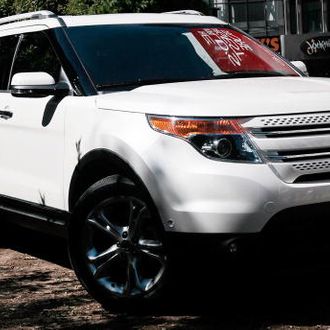 A different Ford Explorer.
According to The New York Daily News, at around 8 a.m. Sunday morning, an unidentified 34-year-old man got into an argument with a 51-year-old woman at their Woodhaven, Queens apartment. Somehow, he jumped on the hood of their blue Ford Explorer, and the woman hit the gas and drove around with the man still up there. Eyewitness Guille Areola said the man on the hood was yelling but added, "I thought it was for fun," though she added that she quickly noticed the "desperation on the man's face." The SUV then crashed into another car at Jamaica Avenue and Crescent Street, pinning the man in between the two vehicles. Rescuers extracted him from the wreck and took him to Brookdale University Hospital, where he died around 9:30 a.m. The New York Post reports that the driver and two passengers in the other car suffered minor injuries. Meanwhile, officials said the woman behind the wheel of the Explorer was taken into custody, and that charges against her are pending.
Update: In an e-mail, the NYPD identified the victim as Matthew Soria, adding that the woman with whom he lived, and driver of the car that killed him, is Maria Espinosa. She has been charged with murder, manslaughter, and assault in the incident.