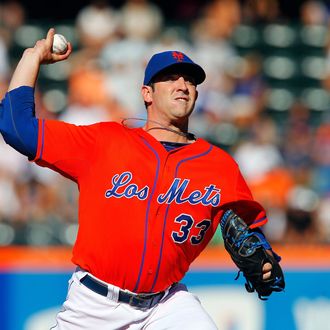 Matt Harvey.
Photo: Jim McIsaac/Getty Images
Well, this is just awful news for the Mets: Matt Harvey — the best thing to come along in Flushing in a long time — is going on the disabled list with a partial UCL tear in his elbow. At a press conference this afternoon, GM Sandy Alderson said that the course of treatment will be determined over the next several weeks. But Tommy John surgery, and its long recovery time, is a possibility.
Alderson said that Harvey had been receiving preventative elbow treatment all season, and more recently had been receiving treatment for forearm discomfort. He said there had been no indication of elbow instability, and Harvey hadn't felt pain in his elbow. Alderson said that following Harvey's most recent start, on Saturday against the Tigers, the pain in his forearm was more severe, prompting today's MRI.
The GM laid out some of the possible courses of action during his press conference. He says it's conceivable that no surgery would be required, or that it wouldn't be necessary now but could be needed down the road. But Tommy John surgery would be a huge blow to a Mets team rebuilding around a young core led by Harvey.
It's unlikely Harvey will pitch again this season, according to the GM, who said the Mets are going to "do the prudent thing." He added that the Mets don't believe the injury is the result of a specific incident, nor do they believe it's a result of overuse. (Harvey had a reported limit of 200 innings this season; he'd thrown 178 1/3 so far through 26 starts, not counting his All-Star Game start in July.)
Alderson said that the decision on whether surgery will be required will be made by Harvey in consultation with a team doctor and possibly a second opinion. And via Marc Carig, Harvey indicated that he wants to do everything possible to avoid surgery.
Harvey is 9-5 with a 2.27 ERA and National League-best 191 strikeouts. He leads all Major League pitchers with a 6.2 WAR.