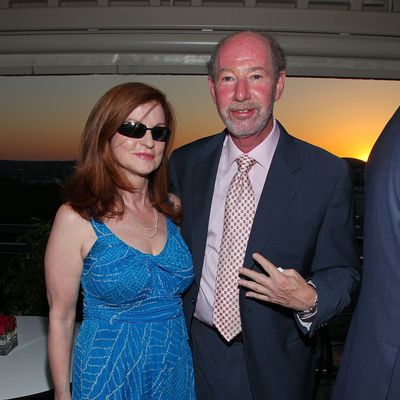 Deal with it.
Photo: Mike Coppola/Getty
Maureen Dowd has apologized after being caught — thanks to an audio recording — misquoting Chirlane McCray, the wife of Bill de Blasio. Dowd says she simply "screwed up," but an inability to quote politicians accurately has been an issue for the Times columnist before. Unlike this incident, however, those misquotes had far-reaching consequences.
May 13, 2003:
Following a successful terror attack in Saudi Arabia, Dowd writes, "Busy chasing off Saddam, the president and vice president had told us that Al Qaeda was spent." Her evidence?
"Al Qaeda is on the run," President Bush said last week. "That group of terrorists who attacked our country is slowly but surely being decimated … They're not a problem anymore."
It turns out those ellipses were pretty important. Andrew Sullivan noted the important context Dowd left out of her truncated quote:
Al Qaeda is on the run. That group of terrorists who attacked our country is slowly, but surely being decimated. Right now, about half of all the top al Qaeda operatives are either jailed or dead. In either case, they're not a problem anymore.
Obviously Bush was only referring to the dead or jailed Al Qaeda operatives when he said they weren't "a problem anymore," not Al Qaeda as a whole. Nevertheless, the sentiment of Dowd's misquote was repeated throughout television and print. Two weeks later, Dowd included the full quote in another column, but the only acknowledgment of any error on her part came via a Times spokesperson to the Daily News:
"It was Ms. Dowd's decision" to run Bush's comment in full, a Times spokeswoman said. "Her intention was not to distort the meaning of the quote. She had received a couple of complaints and was happy to put in the entire quote to satisfy readers who felt it was too truncated.
March 18, 2004:
This time, Dowd's target was phony, pathetic John Kerry. She writes: 
Even when he puts on that barn jacket over his expensive suit to look less lockjaw – and says things like, "Who among us doesn't like Nascar?" – he can come across like Mr. Collins, Elizabeth Bennet's pretentious cousin in "Pride and Prejudice."
The "who among us" quote became a pervasive knock on the patrician Kerry's sad inability to relate to the average Joe, and it stuck to him for the duration of the campaign. Even years later, people were still mocking Kerry for the line. Except that Kerry never said it. The actual quote:
"This president went to Florida just the other day to start the NASCAR races. There isn't one of us here who doesn't like NASCAR and who isn't a fan, but I'll tell you what. Instead of just saying 'Gentlemen start you engines,' and during that race listening and looking at a race while 350 manufacturing jobs were lost, $171 million was added to the deficit of our country … "
According to a Slate story later in the campaign, Dowd learned about the quote "in a casual conversation with Times reporter Sheryl Gay Stolberg, who said Kerry said it on Feb. 17 at a union rally in Milwaukee." Dowd apparently never bothered to confirm her colleague's month-old recollection before putting the quote in the column.