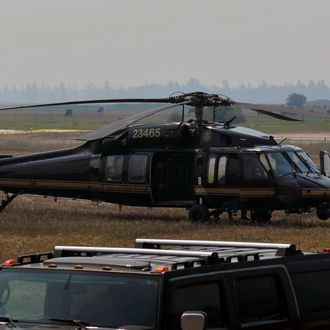 A blackhawk helicopter at the Cascade Airport in Idaho.
Photo: Robby Milo
A week-long hunt for missing 16-year-old Hannah Anderson ended on Saturday night, when the San Diego teenager was rescued after FBI Special Agent Jason Pack shot and killed her abductor, family friend James Lee DiMaggio, in remote area outside of Cascade, Idaho. DiMaggio is also suspected of killing Anderson's mother, Christina Anderson, and 8-year-old brother Ethan a week ago on Sunday. Their bodies were found in his burned down house.
At least 200 people (150 of them "highly trained, enhanced SWAT teams, law enforcement" and FBI officials) worked to bring Anderson home safely. The teams were flown to Morehead Lake — the largest roadless area in the lower 48 states — Saturday morning, and took to the wilderness on foot, on horseback, and via helicopter after DiMaggio's blue Nissan Versa was discovered 60 miles northeast of Cascade. (Ada County sheriff's spokeswoman Andrea Dearden called it "the last place you can go before you hit the wilderness and stop driving.") The LA Times reports that the special forces waited until DiMaggio — who'd been considered armed and dangerous, and was falsely thought to be carrying explosives in his car — and Anderson separated before moving in for the rescue. So far, there aren't many details about how exactly DiMaggio died.
San Diego County Sheriff Bill Gore said that Anderson "appears well" while other reports confirmed "the girl did not appear to have significant physical injuries" when checking out of an Idaho hospital early Sunday. She'll be reunited her father Rhett Anderson today, who told CNN via text, "I am nervous excited saddened 4 my wife and son and worried what my daughter has been through."
Update: While details about DiMaggio's end are still scarce, sources said that authorities observed DiMaggio moving some wood and other materials around, "possibly to fortify his position or make the hideout harder to see from the air." He and Anderson were found with camping gear, including a blue tent.