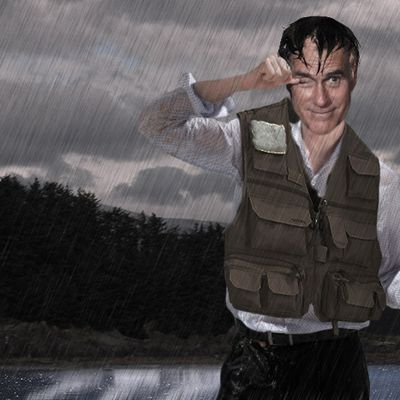 Mitt Romney on his recent fishing trip. Not pictured: Scottish bodyguard.
The election is over, and Mitt Romney is largely out of the public spotlight, but he apparently still retains the services of a Scottish bodyguard — even when traveling to some of the country's most remote locations. According to a story in the (subscription-only) Ketchikan Daily News, an Alaskan fishing guide named Tom Skultka took Romney, four of Romney's friends, and Romney's aforementioned Scottish bodyguard out for a fishing trip on Prince of Wales Island's "Secret Lake" last week in search of trout.  
Skultka, who carries a .44-magnum when traveling with clients, said the bodyguard, who is Scottish, noticed Skultka was armed and the two began collaborating toward "keeping our celebrity client safe," he said.
After six hours, Romney came away without a single fish and "drenched" from an unexpected rainstorm. But catching fish isn't what fishing is about, anyway. It's about basking and bonding in the quiet wilderness with just a few good buddies and your Scottish bodyguard.