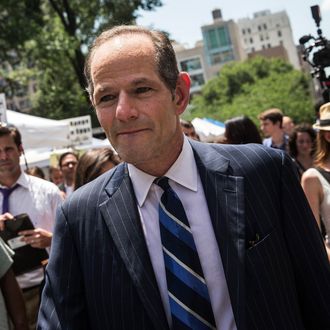 Photo: Andrew Burton/2013 Getty Images
Scott Stringer repeatedly accused Eliot Spitzer of money laundering in both comptroller debates, and the Daily News repeated the charge in its endorsement on Sunday, but now the New York Times is coming to the former governor's defense (though the paper is still backing Stringer). The claim is rooted in Spitzer's unsuccessful attempt in September 2007 to have his bank make a $5,000 wire transfer from his account to that of the Emperor's Club V.I.P., a prostitution ring. The bank filed a Suspicious Activity Report with the Treasury Department, which led to investigations by various government agencies. Spitzer resigned and several Emperor's Club employees pleaded guilty to prostitution and money laundering, but as the Times reminds us, he was never actually charged with a crime.
Stringer's campaign defended the claim, saying Spitzer was trying to use the money transfer to conceal illegal activity, and pay an organization engaged in money laundering. But that doesn't fit the definition under federal law. "If you've got clean money and you try to secretly move it around, that's not money laundering," Sarah Welling, a law professor at the University of Kentucky, told the Times.
Eight months after Spitzer resigned, the U.S. attorney's office announced there was "insufficient evidence" to charge Spitzer for his payments to the Emperor's Club V.I.P., and it wouldn't be charging him with prostitution either, as the Justice Department usually doesn't charge johns. The paper notes, "It is not in dispute that Mr. Spitzer broke the law by hiring prostitutes and arranging for women to travel across state lines to engage in prostitution," so Spitzer's opponents should probably stick to discussing those crimes in the future.