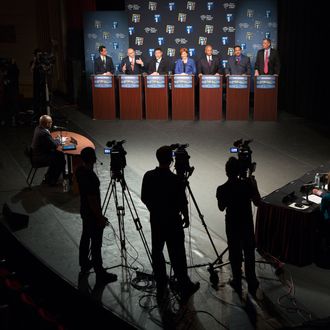 Photo: Pool/2013 Getty Images
It's a rite of passage, and today it is Bill de Blasio's turn: All of a sudden neck-and-neck with Christine Quinn for front-runner status, the public advocate is featured on the front page of the New York Times in an article meant to reveal what he's really like to work with, and how he gets — or doesn't get — things done. Like Quinn, Bill Thompson, John Liu, and Anthony Weiner before him, de Blasio gets a little bit bruised. The stories don't amount to anything approaching a Sydney Leathers sexting scandal (redux), but they do flesh out these competing characters.
Bill de Blasio
The Anecdote:
In the middle of the 2000 Senate race, Hillary Rodham Clinton's advisers found themselves on a conference call about what seemed a small-bore subject: campaign signs. For 20 minutes it droned on. What color should their signs be for the Democratic National Convention that summer? And what about the font? One person had the power to end the discussion — the campaign manager, Bill de Blasio. But he declined to intervene. "Finally, someone said: 'Seriously? Come on people, let's go with blue!' " recalled a Clinton adviser, whose account was confirmed by two other people.
What It Tells Us: As reporter David W. Chen wrote, the moment "reveals that his inclinations — inclusive and easygoing but frequently indecisive — could be agonizingly inefficient in a high-pressure, ever-shifting situation." Between the lines, we're meant to wonder, Can this man really run a city as cutthroat as NYC, or is he just too soft a waffler?
How Bad It Hurts: 2.5 out of 10 on the dick-pic scale.

Christine Quinn
The Anecdote:
She has threatened, repeatedly, to slice off the private parts of those who cross her. […] Ms. Quinn's staff, concerned that angry tirades could be overheard by outsiders, added soundproofing to her City Hall office. Wary of her temper, they are known to ask one another: "Did she throw up on you today?" […] A former campaign donor who had been called to Ms. Quinn's office to discuss a legislative proposal said: "She screamed at me for 10 minutes, uninterrupted, and used the 'F'-word at least 20 times. I was just so startled, I didn't know what to do."
What It Tells Us: If she doesn't get her way, Quinn can go off the rails, and not always in a practical manner. As Chen and reporter Michael Grynbaum wrote, "another Ms. Quinn can emerge: controlling, temperamental and surprisingly volatile, with a habit of hair-trigger eruptions of unchecked, face-to-face wrath. "
How Bad It Hurts: 4.5 out 10 on the dick-pic scale.

Bill Thompson
The Anecdote:
In June, at a news conference in front of his childhood home in Bedford-Stuyvesant inaugurating the ballot-petitioning process, Mr. Thompson declared that he felt "fired up." But as volunteers fanned out to collect signatures, one entered a bodega and, clipboard in hand, showed the green petition forms to an employee. Only then did Mr. Thompson, who had been hanging in the back, sheepishly extend a hand and introduce himself.
What It Tells Us: This guy is shy and dull. He already lost this race once, remember?
How Bad It Hurts: 4 out 10 on the dick-pic scale.
John Liu
The Anecdote:
John C. Liu likes graduations. And so far this year, he has spoken at 47 of them. […] His commencement speeches, some of which are initiated by the schools and some by the comptroller's office, easily outnumber those of his mayoral rivals. […] Mr. Liu's single busiest day on the graduation circuit was June 24, when he spoke at nine institutions, six before lunch. He does not discriminate when it comes to the ceremonies he attends.
What It Tells Us: Beyond the near-constant scandal and his reputation for hustling, Liu may be a tad overeager for people to know his name.
How Bad It Hurts: 2 out of 10 on the dick-pic scale.
Anthony Weiner
The Anecdote:
His staff had the highest turnover in the New York City delegation, and some aides complained about his behavior. In 2005, he became so irritated with a staff member that he threw a salad against the wall, then left the room as the dressing slowly dripped, leaving a stain. Another time, arguing with an aide, Mr. Weiner threw his BlackBerry against a wall, then blamed the aide for the broken phone.
What It Tells Us: Weiner may expect more out of those around him than he does of himself. The salad toss, while vivid, is less damning than the larger takeaway of the Times story (and everything else we know about him) — that Weiner, throughout more than twelve years in Congress, was great at getting publicity but "sponsored and wrote only one bill."
How Bad It Hurts: 6 out of 10 on the dick-pic scale. (Note: Weiner is the only candidate to previously score a perfect 10 — twice — on the scale.)