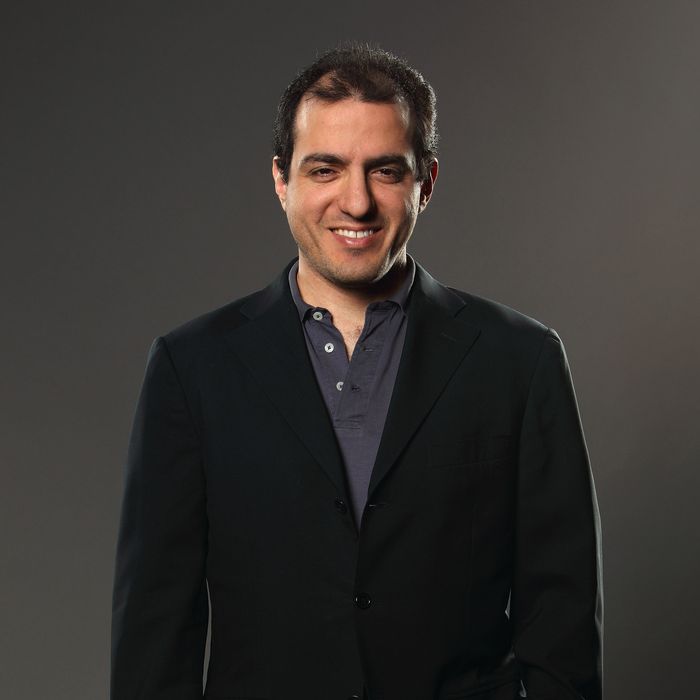 Jack Hidary.
Photo: Andreas Rentz/2010 Getty Images
The circus that is the New York City mayoral race got another act last month: Jack Hidary, a tech entrepreneur from the first dot-com boom. Hidary, who made his fortune on EarthWeb, a job-search site, is a veteran of Silicon Alley's tech scene. Now, he's trying a pivot to politics.
Hidary has assembled a group of experienced advisers including former Howard Dean campaign manager Joe Trippi and former Clinton aide Richard Strauss for his run as an independent, and he's reportedly raised over $450,000 toward the effort. We spoke with Hidary about his run for Gracie Mansion, his vision for the city's tech scene, and whether or not he's ever pulled a Carlos Danger.
You entered the race a few weeks ago. Why?
Well, I saw what was out there, and I started hearing from lots of different parts of the city, a uniform message … "Jack, get in the race."
And you're branding yourself as, what, the first mayoral candidate from Silicon Alley?
I certainly am. I'm the first mayoral candidate who has built businesses driving the new economy. When I started my company in 1994, 1995,  it was the incipient stage of Silicon Alley. We had the opportunity to take it public, and I was very proud of that. It helped get the industry started.

But Silicon Alley is on fire now. What I'm more focused on is the places I come from. Ocean Parkway, Bensonhurt, where I went to camp. Queens, the Bronx. These are the places where we need to fire up small businesses.
How do you propose doing that?
Well, you know the kind of shared work spaces that you see all around downtown? I want to bring the magic and miracle of what we're seeing with those areas and distribute it to the edges. There's lots of entrepreneurial talent in New York City. You can visit Brighton Beach, visit Corona, and find entrepreneurial talent. What you don't find are start-up services like you find in Silicon Alley.
And by the way, we've just talked about tech companies. But talk about food start-ups. Where I come from, there are more than 70 food start-ups. But they they all cook at home in the kitchen, so they can't sell to Whole Foods, they can't sell in the marketplace.
So, you think start-ups are overregulated?
I wouldn't say that. There are a lot of encouraging start-ups, but, for example, with food start-ups you do need a commercial kitchen. We can create commercial kitchens all around the city.
And then what?
I would "Shark Tank" it. I would actually bring the buyers from Costco and Whole Foods, bring them once a month and let them hear the pitches of those entrepreneurs. And they can go, Hey, I like that product, and I want to buy a big, big order for it.
I talked to a lot of these people, and one of the key things is, the really big hurdle is getting connected to buyers. Most entrepreneurs are having a lot of trouble finding them.
In Silicon Valley, you have a lot of wealth being created, but also a lot of inequality. How will you make sure that the gains of the private sector in New York are being reflected in the lives of ordinary people?
What I see in Silicon Alley right now is an explosion of creativity. And a lot of people are attracted in particular to shared work spaces, to collaboration, I think more so than in Silicon Valley.
The other big difference between us and Silicon Valley is that, there, you have a homogenous industry. Here, we have a start-up scene, but we also have a more diverse set of industries. When I look at the tech scene in New York, I don't just look at the number of tech start-ups. I look at financial services, I look at health care.
I've criticized Mayor Bloomberg for focusing too much on sprouting early-stage start-ups in the city, and not enough on getting the giants of Silicon Valley to open up offices here. What's your plan on that front?
I want to draw on my relationships in Silicon Valley to bring those companies here, and get them to open up a large New York presence. It makes a lot of sense for them. Why did Google open up an office in New York? Yes, they wanted talent, but they also wanted to be close to the ad market.
But think about Apple. Apple is very much involved in the creative industry — through iTunes, iBooks, they're getting heavy into TV. That is very much part and parcel of what we do here.
Which company would be your dream New York transplant?
Well, there are the obvious four or five horsemen, and many of those could benefit from being here — Apple, Amazon, etc. But I also want to get those companies that are at that 200-person level.
So, pretty crowded mayoral race. What do you think your chances of winning are?
100 percent.
[…]
No, I'm joking. We have a really good shot at winning! When it comes down to it, there are candidates who want to take us back in a time machine. We want to go forward. That's my focus.
Which apps are on the home screen of your iPhone?
Let me look at it right now … let's see, there's Kayak, Runkeeper, an app by Robert Kennedy's non-profit, NextStop, Instagram, Kindle …

Very important technology-related question: Have you ever sent photographs of your penis over the Internet?
[Laughs.] No, I have not. 
This interview has been condensed and edited.