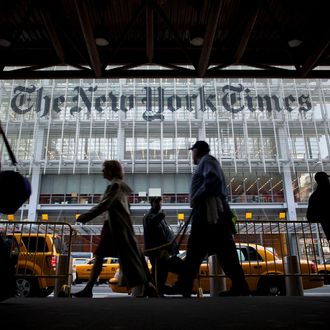 Photo: Bloomberg/2011 Bloomberg
Visitors to NYTimes.com this afternoon received a haunting "Http/1.1 Service Unavailable" message as the site remained down for nearly two hours. While the Times blamed the outage on "an internal issue, which we expect to be resolved soon," Fox Business cited a "cyber attack." Idle staffers, not exactly panicked on this August afternoon, gathered around the Twitter campfire to amuse their colleagues with witty riffs on the situation. Of course.
Behold, from the mood inside the mothership:
Update, 1:15 p.m.: It's back.
Update, 1:25 p.m.: And it's down again (and back up, intermittently). A rival takes advantage: