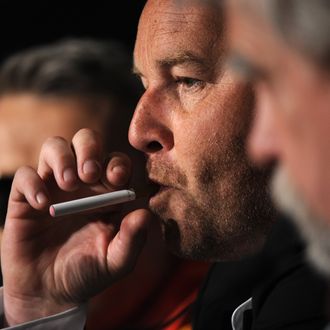 Photo: ANNE-CHRISTINE POUJOULAT/AFP/Getty Images
Mayor Michael Bloomberg's pushy, ongoing crusade to stop you from slowly killing yourself includes anti-cigarette legislation that would hide packs, ban coupons, and raise the tobacco age to 21. But, unlike previously believed, electronic cigarettes are not safe either: An update to the Health Committee's ordinances adds much stricter rules for Leonardo DiCaprio's preferred way of inhaling nicotine that could stamp out the arguably (massively?) lame trend before it gets any more out of hand. The Consumer Advocates for Smoke-Free Alternatives Association leaked the following proposals being considered by the City Council:
-Redefine "tobacco products" under New York City law to include e-cigarettes and related components, parts, and accessories (both ordinances)

-Ban the display of e-cigarettes and smokeless tobacco in retail stores (Int 1020-2013)

-Ban the sale of e-cigarettes or e-liquid in flavors other than tobacco, menthol, mint and wintergreen in areas other than an age-restricted "tobacco bar." New York City law prohibits "tobacco bars" that were not open in 2001, and thus even an e-cigarette store in New York City would be prohibited from selling flavored e-cigarettes! (Int 1021-2013)

-Mandate that e-cigarette products and parts, components, and accessories only be sold in their original packaging (Int 1021-2013)
The bill contends, "Electronic cigarette marketing is often designed to deter smokers from quitting and to attract youth." It cites a study of Florida high-schoolers that found 8.4 percent of them tried an e-cig last year.
"This is a de facto ban on electronic cigarettes," a community health professor told Gothamist. "Pretty much all electronic cigarettes are flavored; they're essentially flavored products. You're basically telling a bunch of ex-smokers to go back to cigarettes." He called the plan a "public health disaster."
An e-cig peddler also lamented the changes: "Our Dark Roast (coffee flavor w/caffeine) sells really well in NYC," he said, to which we ask, who are you people?