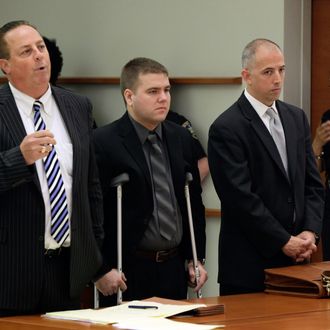 Haste.
Photo: J.B Nicholas / Splash News/Corbis
A New York City grand jury decided yesterday not to reindict the NYPD officer who killed 18-year-old Ramarley Graham at home while the teenager tried to flush some weed down the toilet. Richard Haste, the cop, was initially charged with manslaughter, but a judge tossed the indictment because prosecutors mistakenly told jurors to disregard whether Haste was informed by other officers by radio that Graham was armed. (He was not.) The second time around, the Bronx grand jury opted to let Haste walk. An active NYPD officer has not faced criminal charges for a fatal shooting since 2006.
"I was just informed that 'Murderer' Richard Haste will NOT BE RE-INDICTED," the teenager's mother, Constance Malcolm, wrote on Facebook. "I cannot believe the system is allowing Richard Haste who KILLED MY SON in the bathroom of his own home to go home to his family and [be] able to look into their faces and smile." A lawyer for Graham's family called the ruling "a punch in the gut."
Haste's lawyer said, "It's gratifying to know a police officer can get a fair shot in a Bronx grand jury," which was maybe not the best choice of words.