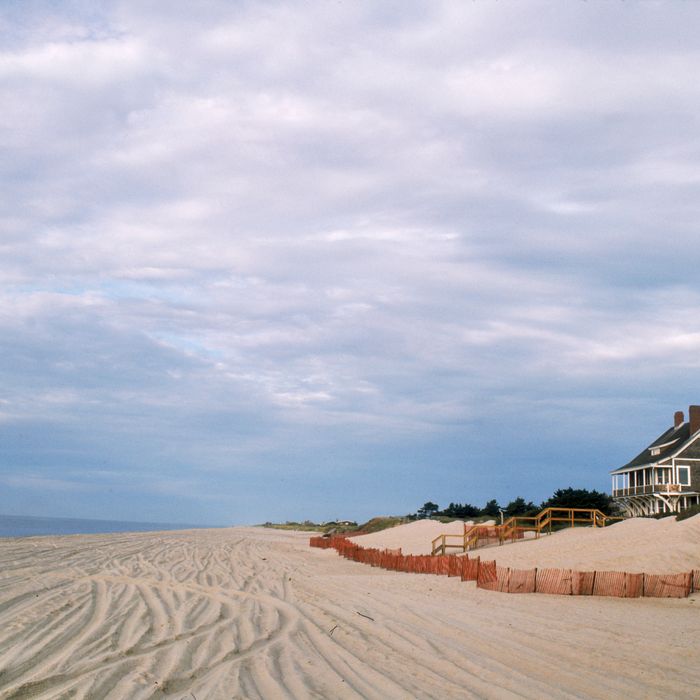 Photo: Susan Wood/Getty Images/2007 Getty Images
After the 2012 election, New York Times senior political correspondent Jim Rutenberg won the reporting lottery: a summer out east. For a few months, Rutenberg's job was to comb the beach for stories in "a place where the beauty of the late-afternoon summertime sun is matched only by the wealth of those who can afford to enjoy it," as his editor put it in the memo announcing the assignment. For most people the end of summer — rapidly approaching — is a bit depressing, but for Rutenberg it means back to the real world in a more literal sense. He spoke with Daily Intelligencer about his Hamptons sojourn, haunting the Clintons, and how he plans to avoid a severe newsroom ribbing upon his return.
So, it's almost Labor Day weekend. How's it going?
Awesome. I'm not allowed to complain.

Is the dream ending? When are you heading back?
The dream is fading fast. Very sad. "Back" is a relative term. Our main home is here in Montauk, and we have a small apartment in Brooklyn that we rent. I'll be coming out year-round, but I won't be here full-time, and that is a very painful reality. That kicks in after Labor Day. I'll take a week off and then I'll come back to cover politics — fresh, revived, with a new perspective on life.
What's next?
There's a project I'll be getting back to in the national political world, otherwise it's fairly open in terms of where it's going to go. Midterms are coming up.

How did the Hamptons assignment come about?
I requested it, but it's funny because [Times "Metro" editor] Wendell Jamieson and I have talked about this beat since our days together at the Daily News. We've been in awe of the Newsday scenario — they used to have a house that someone would rotate into every summer, so the newspaper legend held. So we always fantasized about this kind of beat.
During the height of the campaign, we started asking if I could do it this summer. In the off year, usually you can do something a little different. Especially after a reelection, there's less need for all hands on deck because you're not covering a new administration. We asked at a time when maybe the editors were a little distracted and they'd say yes to anything. Joking, joking, joking! Anyway, they said yes. It was great of Jill Abramson to let me do it. She gave it the go-ahead. It was by her grace, really.
Has it been all you dreamed of? You've seen and reported on some pretty varied things: Colin Powell dancing to "Get Lucky" at a fund-raiser, an alleged rape by a Goldman Sachs banker, the Clintons, shark hunting … How did it measure up to what you were expecting?
I'm probably only halfway through the story list of what I really wanted to do, because everything takes a little bit longer out here. But it's everything I thought it would be. I always knew the stories were here. Seriously, for all the jokes about it being a cushy assignment — and it really is awesome — I really was drawn here because of all these varied, cool stories. It has so many elements at play: class, excess, immigration, fishing and sea life, beach erosion, everything. When you cover national politics, you're so high above it all, so it's nice to be down on the ground and see how things really work.
In the Times memo about your move, your editor alluded to the "darker stories amid the hedgerows and former potato fields." What Hamptons darkness exists that people might not know about?
The story that captured that best was about the suicides of Latino students at East Hampton High. That just showed that there's a huge year-round population that is here to work in the service industry or be wealthy second-home owners, and there's a whole new culture springing up that these small towns or hamlets that were founded by Anglos hundreds of years ago were not quite ready to help.
There's also the part people do expect. Your piece today on "McMansions" begins with the line "Porsche ads clog the local radio here, houses are renting at close to the million-dollar range … " How do you think New Yorkers' perception of the Hamptons as a destination varies from what you've seen on the ground? How accurate is it?
In a way, it's really accurate. But to me, I never get over it. Listening to the local radio station here, they have these Porsche ads running all the time. Sometimes you have to pinch yourself. There was an ad for a diamond appraiser! It's just like, wow.
What I think does get missed is the complexity out here. The nature gets lost.
Do you have a favorite story from the summer?
My favorite story was about the surfer Quincy Davis. It really captured the spirit of Montauk and the surfing community. It captured the spirit of the place.
Also in the memo, your editor predicted "some reporting from a surfboard." How's your surfing?
It's been horribly flat in August, so that has been bad. I'm not going to lie and say I didn't get a good amount of surfing in, before and after work, but work got in the way more than I expected. I tried to go to a surfing interview with Quincy — we tried twice — but it was so flat.
Any outtakes that didn't quite make it into the paper?
The Colin Powell thing, for sure, which only ran online. I went expecting a pretty typical Hamptons event and … Words can't even describe what that is like to see Colin Powell dancing with Ellen DeGeneres and Katie Holmes and Jamie Foxx, with Lenny Kravitz onstage in this barn by Georgica Pond on, like, 70 acres of land. To see Russell Simmons waiting an hour for his car like everybody else. Eric Cantor sitting there by Governor Cuomo while this is all taking place. It was just a whole other world that I was not aware of. It definitely took the cake for the wildest sight I've seen. In the paper, it's a one-liner, but when you see it unfold, it's kind of shocking.
You were also still on the Clinton beat this summer, even though this was supposed to be your break from politics. Were they happy to see you?
That was always on my story list, Hillary's Hamptons. An aide to them joked, "It's not a vacation if the New York Times isn't along." And then there was another joke that their paper got soggy, so we should deliver a fresh one. I was right on it, absolutely ready to bring as many papers as they wanted and made that clear, but they didn't follow through with the ask, so I did not get to deliver the paper to their home.
How much of your time was work, and how much was vacation?
It was hard work. I worked at least one weekend day and constantly, but happily. It was all work. I'm actually in a little bit of trouble with my wife because I turned our house into a stress-filled office. It kind of backfired in that department.
And how's your tan?
Way too much in effect. I will definitely have to try to de-tan before I get back to headquarters. It's going to be hard enough to show up there after this beat. The tan will invite that much more ridicule.
This interview has been condensed and edited.